QuantiChrom™ Hydroxyproline Assay Kit
Application
For quantitative determination of hydroxyproline and collagen in biologic and cosmetic samples.
Key Features
Safe. Our hydroxyproline assay uses an improved perchlorate-free chemistry.
Sensitive and accurate. Uses 20 µL sample. Linear detection range 0.5 µg/mL to 50 µg/mL hydroxyproline in 96-well plate assay.
Convenient. Collagen can be hydrolyzed in Eppendorf tubes, and final incubation can be performed at 37°C.
Method
Samples
Hydroxyproline and collagen in biologic and cosmetic samples
Species
Procedure
Size
Detection Limit
Shelf Life
More Details
HYDROXYPROLINE is a unique modified amino acid that is found exclusively in several animal proteins, the most prevalent of which is collagen. Collagen is a key structural protein of the extracellular matrix and is common in connective tissues due to its incredible strength. Because of its role as a key structural protein in animals collagen is crucial for many medical applications, such as tissue transplantation and scaffolding for complex cell cultures. Collagen is also used in the beauty industry, as it can be supplemented to increase tissue rigidity, resulting in skin that appears more youthful. BioAssay Systems' Hydroxyproline assay kit delivers a safe, simple, and sensitive means to quantify hydroxyproline in samples. In the first step of this procedure, hydroxyproline in the sample is oxidized to a pyrrole ring. This compound then reacts with a dye reagent to yield a pink product that can be measured at 560 nm. Hydroxyproline exists almost exclusively in collagen, so hydroxyproline content can be used as a proxy for collagen content.
How do I hydrolyze solid collagen samples(cartilage, tendon, etc.)?
Dessicate sample in a drying oven until all water has been removed(Can measure wet weight, but dry is more accurate). Add 50 µL 6N NaOH for every 150 mg of sample to be hydrolyzed in an Eppendorf tube. Heat in a heat block at 100°C for 1-2 hours. Allow tube to cool. Add equivalent 10N HCl to neutralize NaOH. Add a volume of deionized water equal to the amount of NaOH and HCl added. (A detailed hydrolysis procedure is in the product datasheet).


Do I need to hydrolyze the hydroxyproline standard?
We have found that the hydroxyproline standards and blank are very similar whether or not they undergo hydrolysis. Therefore, the kit does not require hydrolysis treatment of the hydroxyproline standard.


Can I run the final incubation at a different temperature?
The incubation can be set to 45°C for 50 minutes. The protocol states to use 37°C because then it can be run in a plate reader or a tissue culture incubator. Some plate readers may not heat to 45°C.
No citations for this new product. Please check back later. You may click here to check if citations are available, but are not listed here yet.
If you or your labs do not have the equipment or scientists necessary to run this assay, BioAssay Systems can perform the service for you.
– Fast turnaround
– Quality data
– Low cost
Please email or call 1-510-782-9988 x 2 to request assay service.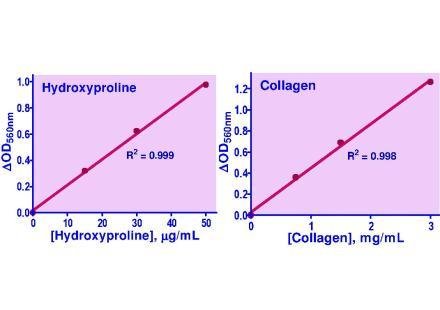 For orders of 10 or more kits, please call +1-510-782-9988×1 or email us for best pricing and/or bulk order.

Orders are shipped the same day if placed by 2pm PST
Shipping: RT
Carrier: Fedex
Delivery: 1-2 days (US), 3-6 days (Intl)
Storage: 4°C upon receipt