EnzyFluo™ Tryptophan Assay Kit
Application
For quantitative determination of tryptophan and evaluation of drug effects on its metabolism.
Key Features
Fast and sensitive. Use of 10 µL sample. Linear detection range from 10µM to 400 µM tryptophan in 96-well plate assay.
Convenient. The procedure involves adding a single working reagent, and reading the fluorescence after 30 minutes. Room temperature assay. No 37°C heater is needed.
High-throughput. "Add-mix-read" type assay. Can be readily automated as a high-throughput 96-well plate assay for thousands of samples per day.
Method
Samples
Species
Procedure
Size
Detection Limit
Shelf Life
More Details
TRYPTOPHAN is one of the eight essential amino acids that the body cannot synthesize and must be obtained through diet. Tryptophan is the biochemical precursor to the neurotransmitter serotonin, which has important roles in biological processes such as regulation of appetite, sleep, and mood. Imbalances of serotonin have been linked to numerous mental health disorders. Tryptophan is also a precursor to the neurotransmitter melatonin, which is heavily involved in regulating the body's sleep cycle. BioAssay Systems EnzyFluo™ Tryptophan Assay uses a coupled enzymatic reaction to determine the tryptophan concentration of a sample with the addition of a single working reagent. The fluorescence intensity at λex/em = 530/585 nm is directly proportional to tryptophan concentration in the sample.
How do I store the kit?
This kit is shipped on ice. Upon receiving, please keep the kit in the freezer (-20°C).


Does the kit work with urine samples?
Due to high levels of interference in urine samples, the assay cannot be used to detect tryptophan in urine.


There is a standard curve shown in the datasheet, why do I not construct one?
Yes there is a standard curve in the datasheet; we include this to show the linear detection range of the kit for quantifying tryptophan. Due to interference matrices in serum and plasma, an internal standard must be run. The datasheet has detailed information on how to perform this and calculate tryptophan concentration from it.


I would like to construct a standard curve, how can I go about that?
It should be noted that this standard curve will not be accurate for determining tryptophan concentration in serum or plasma samples. However, if you wish to construct a standard curve, you may dilute the Tryptophan Standard in dH2O to concentrations within the kit's detection range (e.g. 100µM, 50µM, 25µM, 0µM) and use these as samples for the fluorimetric (10µL) procedure. Add 100µL Working Reagent to these samples, incubate for 60 minutes and read the RFU.


Can I store unused reagents for future use?
Yes, unused reagents can be stored according to the assay protocol. Repeated freeze/thaw cycles of reagents should be avoided. Working Reagent should be made fresh for each assay.
No citations for this new product. Please check back later. You may click here to check if citations are available, but are not listed here yet.
If you or your labs do not have the equipment or scientists necessary to run this assay, BioAssay Systems can perform the service for you.
– Fast turnaround
– Quality data
– Low cost
Please email or call 1-510-782-9988 x 2 to request assay service.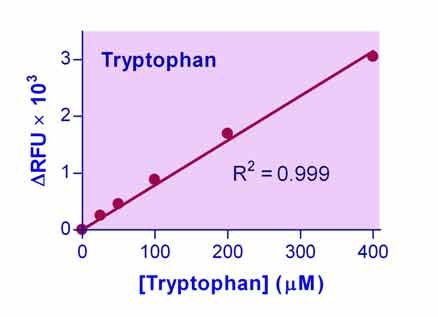 For orders of 10 or more kits, please call +1-510-782-9988×1 or email us for best pricing and/or bulk order.

Orders are shipped the same day if placed by 2pm PST
Shipping: On Ice
Carrier: Fedex
Delivery: 1-2 days (US), 3-6 days (Intl)
Storage: -20°C upon receipt