EnzyChrom™ Adipolysis Assay Kit
Application
For quantitative assay of adipolysis and evaluation of drug effects on adipolysis.
Key Features
Sensitive and accurate. Use as little as 10 µL samples. Linear detection range in 96-well plate: 0.92 to 100 µg/mL (10 to 1000 µM) glycerol for colorimetric assays and 0.2 to 5 µg/mL for fluorimetric assays.
Rapid and convenient. The procedure involves addition of a single working reagent and incubation for 20 min at room temperature.
Robust and amenable to HTS assays. Potential interference by testing drugs is greatly reduced at 570nm. Compatible with culture media containing phenol red. Assays can be performed in 96 or 384-well plates.
Method
Samples
Species
Procedure
Size
Detection Limit
Shelf Life
More Details
Obesity is a chronic condition that develops from the storage of excess energy in the form of adipose tissue. The resulting adiposity presents a high-risk factor for diseases such as type 2 diabetes, cardiovascular diseases, and cancer. ADIPOLYSIS or lipolysis is a highly regulated process in fat metabolism, in which triglycerides are broken down into glycerol and free fatty acids. Rapid, robust and accurate procedures for adipolysis quantification in cell culture are very useful in research and drug discovery. BioAssay Systems adipolysis assay kit directly measures glycerol released during adipolysis. This homogeneous assay uses a single Working Reagent that combines glycerol kinase, glycerol phosphate oxidase and color reactions in one step. The color intensity of the reaction product at 570nm is directly proportional to glycerol concentration in the sample.
I collected the medium from the culture wells. Do I need to now centifuge the medium and collect the supernatant or do I use the medium itself for the assay?
You can assay the cell culture medium directly. However, if it contains cellular debris you should first centrifuge it and then use the clear supernatant in the assay.


What is the principle of the assay?
In the process of adipolysis triglycerides are hydrolyzed by the cellular lipases into glycerol and free fatty acids. The assay measures glycerol, the end product of adipolysis, in a coupled three step enzyme reaction:
1) Glycerol kinase converts glycerol and ATP to glycerol phosphate and ADP.
2) Glycerol phosphate oxidase converts glycerol phosphate and O2 to glycerone phosphate and H2O2
3) HRP converts ADHP and H2O2 to resorufin and water.
Nascimento, EBM et al (2021). Nicotinamide riboside enhances in vitro beta-adrenergic brown adipose tissue activity in humans. The Journal of Clinical Endocrinology and Metabolism. Assay: Adipolysis in human adipocytes.

Huttala, Outi, et al (2019). Presence of vasculature results in faster insulin response in adipocytes in vascularized adipose tissue model. ALTEX-Alternatives to animal experimentation. Assay: Adipolysis in human adipose tissue.

Jocken, Johan WE, et al (2018). Short-chain fatty acids differentially affect intracellular lipolysis in a human white adipocyte model. Frontiers in endocrinology 8: 372. Assay: Adipolysis in human stem cell.

Wang, Rebecca Y., et al (2017). Development of a three-dimensional adipose tissue model for studying embryonic exposures to obesogenic chemicals. Annals of biomedical engineering 45.7: 1807-1818. Assay: Adipolysis in human tissues.

Zheng, Qiantao, et al (2017). Reconstitution of UCP1 using CRISPR/Cas9 in the white adipose tissue of pigs decreases fat deposition and improves thermogenic capacity. Proceedings of the National Academy of Sciences 114.45: E9474-E9482. Assay: Adipolysis in pig tissues.

Huttala, Outi, et al (2016). Differentiation of human adipose stromal cells in vitro into insulin-sensitive adipocytes. Cell and tissue research 366.1: 63-74. Assay: Adipolysis in human cells.

Kim, Hyo Joon, et al (2016). An apolipoprotein B100 mimotope prevents obesity in mice. Clinical Science 130.2: 105-116. Assay: Adipolysis in mouse cells.

Yuan, Xiaoxue, et al (2016). Rutin ameliorates obesity through brown fat activation. The FASEB Journal 31.1: 333-345. Assay: Adipolysis in mouse cells.

Chandrasekaran V., Amit A. et al (2013). Effect of Nelumbo nucifera Petal Extracts on Lipase, Adipogenesis, Adipolysis, and Central Receptors of Obesity. Evidence-Based Complementary and Alternative Medicine. 2013: 10.1155/2013/145925 Assay: Adipolysis in cell lines.

Li R et al (2012). Neuropeptide Y potentiates beta-adrenergic stimulation of lipolysis in 3T3-L1 adipocytes. Regul Pept. 178(1-3):16-20. Assay: Adipolysis in mouse adipocytes.

To find more recent publications, please click here.
If you or your labs do not have the equipment or scientists necessary to run this assay, BioAssay Systems can perform the service for you.
– Fast turnaround
– Quality data
– Low cost
Please email or call 1-510-782-9988 x 2 to discuss your projects.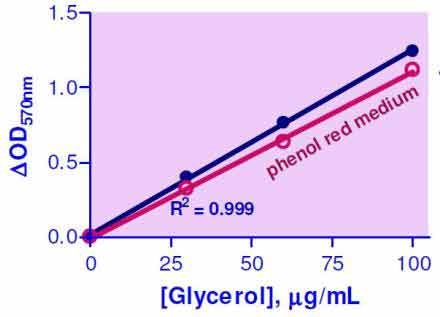 For bulk quote or custom reagents, please email or call 1-510-782-9988 x 1.

Orders are shipped the same day if placed by 2pm PST
Shipping: On Ice
Carrier: Fedex
Delivery: 1-2 days (US), 3-6 days (Intl)
Storage: -20°C upon receipt
Quality and User-friendly • Expert Technical Support • Competitive Prices • Expansive Catalogue • Trusted Globally