EnzyChrom™ Neuraminidase Assay Kit
Application
For quantitative determination of neuraminidase activity and screen for neuraminidase inhibitor.
Key Features
Sensitive and accurate. Linear detection range at 37°C in 96-well plate: 0.1 to 10 U/L for colorimetric assays and 0.01 to 2 U/L for fluorimetric assays.
Simple and convenient. The homogeneous assay requires only two absorbance measurements. The assay can be completed in 60 min.
High-throughput. It can be readily automated as a high-throughput 96-well plate assay to screen thousands of samples per day.
Method
Samples
Species
Procedure
Size
Detection Limit
Shelf Life
More Details
NEURAMINDASE (also known as Sialidase) is an enzyme that hydrolyzes terminal sialic acid residues on poly-saccharide chains. It is predominantly expressed in microorganisms such as bacteria and viruses. Cleavage of sialic acid residues by neuraminidase is believed to play several roles in infection by influenza viruses. It is thought to assist in the penetration of mucosal linings, the invasion of target cells, the elution of progeny viruses from infected cells, and the prevention of self-aggregation. Thus, neuraminidase is an important target for influenza drug development and simple, direct, and automation-ready procedures for measuring neuraminidase activity find wide applications in research and drug discovery. BioAssay Systems neuraminidase assay measures the sialic acid released by neuraminidase in one step. The change in color intensity of the reaction product at 570nm or fluorescence intensity at λex/em = 530/585nm is directly proportional to neuraminidase activity in the sample
Could you tell me the chemical components of the substrate? What kind of sialic acid?
The substrate is fetuin, a heavily sialidated protein from fetal bovine serum. Our assay is based on the detection of N-acetyl neuraminic acid (NANA, Neu5Ac) in a coupled enzyme reaction leading to the formation of a colored and fluorescent product. Influenza neuraminidase will cleave terminal NANA residues from fetuin.
Lida, M. et al (2019). A sialo-oligosaccharide-rich mucin-like molecule specifically detected in the submandibular glands of aged mice. Archives of oral biology, 97, 52-58. Assay: Neuraminidase in mouse salivary gland.

Itoh, Y et al (2015). Emergence of H7N9 Influenza A Virus Resistant to Neuraminidase Inhibitors in Nonhuman Primates. Antimicrob Agents Chemotherapy. 59(8):4962-73. Assay: Neuraminidase in macaque fluid samples.

Jihong L, et al (2014). The Sialidases of Clostridium perfringens Type D Strain CN3718 Differ in Their Properties and Sensitivities to Inhibitors. Appl Environ Microbiol. 80(5): 1701-1709. Assay: Neuraminidase in Clostridium perfringens cells.

Subathra, M et al (2014). Evaluation of antibody response in mice against avian influenza A (H5N1) strain neuraminidase expressed in yeast Pichia pastoris. J Biosci. 39(3):443-51. Assay: Neuraminidase in Pichia pastoris cells.

Subathra, M et al (2014). Evaluation of antibody response in mice against avian influenza A (H5N1) strain neuraminidase expressed in yeast Pichia pastoris. Journal of Biosciences: 1-9. Assay: Neuraminidase in yeast purified Lysate.

Li, J., et al. (2013) CodY is a global regulator of virulence-associated properties for. Clostridium perfringens: 00770-13. Assay: Neuraminidase in C. perfringens cells.

To find more recent publications, please click here.
If you or your labs do not have the equipment or scientists necessary to run this assay, BioAssay Systems can perform the service for you.
– Fast turnaround
– Quality data
– Low cost
Please email or call 1-510-782-9988 x 2 to discuss your projects.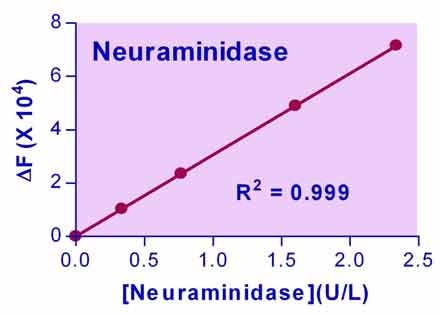 For bulk quote or custom reagents, please email or call 1-510-782-9988 x 1.

Orders are shipped the same day if placed by 2pm PST
Shipping: On Ice
Carrier: Fedex
Delivery: 1-2 days (US), 3-6 days (Intl)
Storage: -20°C upon receipt
Quality and User-friendly • Expert Technical Support • Competitive Prices • Expansive Catalogue • Trusted Globally