QuantiChrom™ Urease Assay Kit
Application
For quantitative determination of urease activity and evaluation/screen for urease inhibitors.
Key Features
Safe. Non-radioactive assay.
Sensitive and accurate. As low as 0.003 U/L urease activity can be quantified.
Homogeneous and convenient. "Mix-incubate-measure" type assay. No wash and reagent transfer steps are involved.
Robust and amenable to HTS: can be readily automated on HTS liquid handling systems for processing thousands of samples per day.
Method
Samples
Biological, environment etc
Species
Procedure
Size
Detection Limit
Shelf Life
More Details
UREASE (Amidohydrolase, EC 3.5.1.5) is an enzyme that catalyzes the hydrolysis of urea into carbon dioxide and ammonia.
(NH2)2)CO + H2)O + CO2) + 2NH3)
Many gastrointestinal or urinary tract pathogens produce urease. Thus its activity is a useful diagnostic parameter for the presence of pathogens such as Helicobacter pylori. Urease is found in bacteria, yeast, and higher plants. Urease activity is commonly determined in anaerobes of the bovine rumen, human feces and environmental samples such as soils and phytoplanktons. BioAssay Systems' Urease Assay Kit provides a very sensitive and convenient means to measure urease activity in a variety of samples including soil. In the assay, urease reacts with urea, resulting in the formation of ammonia, which is determined by the Berthelot method at 670nm. The assay is simple, sensitive, stable and high-throughput adaptable.
What could be the reason for very low OD readings?
If the standards have low OD values this could be caused by adding the reagents in the wrong order. It is critical to add reagent A first, mix, and then add reagent B. The color reaction is time and temperature dependent. The 30 minute incubation time is for room temperature (25°C). If the temperature is lower, you have to incubate longer to obtain the same OD values.


Could we use this kit for stool sample?
We have not tested feces samples ourselves and are not aware of any publications using this kit with stool samples, but believe it should work: We would suggest homogenizing the feces sample in a neutral buffer (e.g. PBS), urease is water soluble and will dissolve. Depending on the consistence of the sample, I would suggest starting with a 10:1 ratio of buffer to sample and homogenize the sample, e.g. by sonication. Then filter the sample to remove all larger particulates. After that, if necessary, add a centrifugation step (5 min at 15,000 x g) to remove smaller particulates. Only clear supernatant should be used in the assay.


How can we extract urease from soil samples?
Use 0.5 g soil. Add 0.3 mL of 0.4mm glass beads, 500 µL of buffer. Vortex on high speed for 2 minutes, then centrifuge for 2 min at 12000 rpm, use 100 µL of the clear fluid and incubate with substrate at 37°C for 3 hours.
Joerger RD, et al (2020) Effect of sodium bisulfate amendments on bacterial populations in broiler litter. Poultry Science.;99(11):5560-5571. Assay: Urease in chicken litter.

Wei, T., et al (2020). Chinese yellow rice wine processing with reduced ethyl carbamate formation by deleting transcriptional regulator dal80p in saccharomyces cerevisiae. Molecules (Basel, Switzerland), 25(16). Assay: Urease in yeast cells.

Liu, Q. W., Liu, Q. Y., Li, J. Y., Wei, L., Ren, K. K., Zhang, X. C. & Xin, H. B. (2018). Therapeutic efficiency of human amniotic epithelial stem cell-derived functional hepatocyte-like cells in mice with acute hepatic failure. Stem cell research & therapy, 9(1), 321. Assay: Urease in human urine.

Wu, D (2015). Constitutive expression of the DUR1, 2 gene in an industrial yeast strain to minimize ethyl carbamate production during Chinese rice wine fermentation. FEMS Microbiology Letters 363(1): fnv214. Assay: Urease.

Zhang, T. et al (2015). Development of an Agrobacterium-mediated transformation system for the cold-adapted fungi Pseudogymnoascus destructans and P. pannorum. Fungal Genetics and Biology 81: 73-81. Assay: urease in fungus.

To find more recent publications, please click here.
If you or your labs do not have the equipment or scientists necessary to run this assay, BioAssay Systems can perform the service for you.
– Fast turnaround
– Quality data
– Low cost
Please email or call 1-510-782-9988 x 2 to request assay service.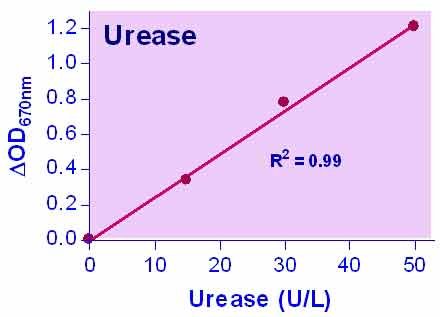 For orders of 10 or more kits, please call +1-510-782-9988×1 or email us for best pricing and/or bulk order.

Orders are shipped the same day if placed by 2pm PST
Shipping: RT
Carrier: Fedex
Delivery: 1-2 days (US), 3-6 days (Intl)
Storage: 4°C upon receipt