QuantiChrom™ α-Glucosidase Assay Kit
Application
For quantitative determination of α-glucosidase activity and evaluation of drug effects on its metabolism.
Key Features
High sensitivity and wide linear range. Use 20 µL sample. The detection limit is 2 U/L, linear up to 250 U/L.
Homogeneous and simple procedure. Simple "mix-and-measure" procedure allows reliable quantitation of α-glucosidase activity within 20 minutes.
Robust and amenable to HTS. All reagents are compatible with high-throughput liquid handling instruments.
Method
Samples
Species
Procedure
Size
Detection Limit
Shelf Life
More Details
α-GLUCOSIDASE hydrolyzes the terminal, non-reducing 1,4-linked α-D-glucose residues with release of α-D-glucose. α-Glucosidase is needed by all animals to hydrolyze maltose to glucose for use as a food. Aberrant activities have been implicated in diseases such as diabetes and Pompe disease. Simple, direct and automation-ready procedures for measuring α-glucosidase activity are becoming popular in Research and Drug Discovery. BioAssay Systems QuantiChrom™ α-Glucosidase Assay Kit is designed to measure α-glucosidase activity directly in biological samples without pretreatment. The improved method utilizes p-nitrophenyl-α-D-glucopyranoside that is hydrolyzed specifically by α-glucosidase into a yellow colored product (maximal absorbance at 405nm). The rate of the reaction is directly proportional to the enzyme activity.
How to prepare of sperm samples for the α-glucosidase assay?
Cell-free seminal plasma should be used, which can be obtained by centrifugation of whole semen. If desired, the acid isoenzyme can be inhibited, so that only the neutral isoform is being measured.
No citations for this new product. Please check back later. You may click here to check if citations are available, but are not listed here yet.
If you or your labs do not have the equipment or scientists necessary to run this assay, BioAssay Systems can perform the service for you.
– Fast turnaround
– Quality data
– Low cost
Please email or call 1-510-782-9988 x 2 to request assay service.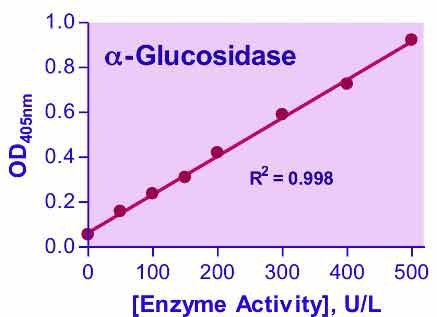 Catalog No :
DAGD-100
Categories
Agriculture & Environment, Blood & Urine Chemistry, Metabolism
Tags
Agriculture & Environment, alpha-Glucosidase assay kits, alpha-Glucosidase determination kits, alpha-Glucosidase measurement kits, alpha-Glucosidase test kits, Blood & Urine Chemistry, DAGD-100, metabolism, QuantiChrom alpha-Glucosidase Assay Kits, QuantiChromTM α-Glucosidase Assay Kit
For orders of 10 or more kits, please call +1-510-782-9988×1 or email us for best pricing and/or bulk order.

Orders are shipped the same day if placed by 2pm PST
Shipping: RT
Carrier: Fedex
Delivery: 1-2 days (US), 3-6 days (Intl)
Storage: -20°C upon receipt