EnzyChrom™ Phospholipase D Assay Kit
Application
For quantitative determination of phospholipase D activity and evaluation of drug effects on phospholipase D metabolism.
Key Features
Sensitive. Use 10 µL samples. Detection range: colorimetric assay 0.06 – 10 U/L, fluorimetric assay 0.04 – 1 U/L.
Simple and High-throughput: the assay involves the addition of a single working reagent and can be readily adapted to high-throughput assays for drug screening.
Method
Samples
Species
Procedure
Size
Detection Limit
Shelf Life
More Details
Phospholipase D
(PLD) catalyses the hydrolysis of the phosphodiester bond of glycerophospholipids to generate phosphatidic acid and a free headgroup. Abnormalities in PLD expression have been associated with human cancers. BioAssay Systems method provides a simple and high-throughput assay for measuring PLD activity. In this assay, PLD hydrolyzes phosphatidylcholine to choline which is determined using choline oxidase and an H2O2-specific dye. The optical density of the pink-colored product at 570nm or fluorescence intensity (530/585 nm) is directly proportional to the PLD activity in the sample.
I was curious how much PLD protein was used per well to generate the two data graphs shown in the product information for the kit.
The specific activity of an enzyme in terms of U/mg varies with the preparation and can also decrease over time. Our current phospholipase D (from Streptomyces sp.) has a specific activity of 6 U/mg. So if we want to reproduce the graph on the datasheet, we need to use 1.67 mg of our phospolipase D to obtain the 10/UL data point. The specific activity of your enzyme preparation may be much lower (or higher) and you should to titrate the preparation starting at the highest possible concentration.
If you or your labs do not have the equipment or scientists necessary to run this assay, BioAssay Systems can perform the service for you.
– Fast turnaround
– Quality data
– Low cost
Please email or call 1-510-782-9988 x 2 to discuss your projects.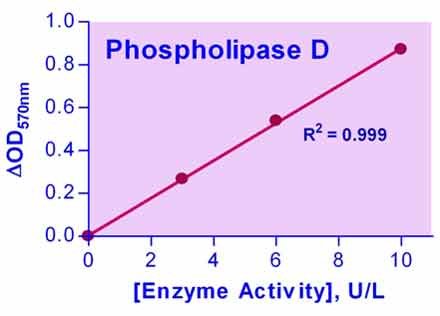 Catalog No:
EPPD-100
Categories
Agriculture & Environment, Blood & Urine Chemistry, Enzyme Activity, Metabolism
Tags
Agriculture & Environment, Blood & Urine Chemistry, EnzyChrom Phospholipase D Assay Kits, EnzyChromTM Phospholipase D Assay Kit, Enzyme Activity, EPPD-100, metabolism, Phospholipase D assay kits, Phospholipase D determination kits, Phospholipase D measurement kits, Phospholipase D test kits
For bulk quote or custom reagents, please email or call 1-510-782-9988 x 1.

Orders are shipped the same day if placed by 2pm PST
Shipping: On Ice
Carrier: Fedex
Delivery: 1-2 days (US), 3-6 days (Intl)
Storage: -20°C upon receipt
Quality and User-friendly • Expert Technical Support • Competitive Prices • Expansive Catalogue • Trusted Globally