QuantiChrom™ Pectinase Assay Kit
Application
For quantitative determination of pectinase activity determination in biological samples.
Key Features
Linear detection range from 9.2-100 U/L pectinase activity in a 96-well plate assay.
Simple and convenient 40-minute "Add-Mix-Measure" type assay. High-throughput format and compatible with laboratory liquid handling systems. No heating is required.
The kit does not use toxic materials. Refer to the previously established DNS method.
Method
Samples
Enzyme extracts, agriculture, and biological samples
Species
Plant, fungal tissues, juice, bacteria, etc
Procedure
Size
Detection Limit
Shelf Life
More Details
PECTINASE (EC 3.2.1.15)
is an enzyme that catalyzes the hydrolysis of pectin, a heteropolysaccharide found primarily in the middle lamella and cell wall of terrestrial plants. During fruit ripening, enzymes, including pectinase break down the middle lamella, separating cells and softening the fruit. Pectinase enzymes are used in the food industry to liquefy fruit pulp and clarify fruit juice and wine. BioAssay Systems' DPEC-100 kit provides a rapid and convenient assay for pectinase enzyme activity, in which pectin the substrate forms a turbid complex with the detection reagent. The turbidity, measured at OD600nm, is proportional to the amount of unhydrolyzed pectin, thus inversely proportional to the pectinase activity.
Will pectin lyase work with this kit?
Pectin lyase (EC 4.2.2.10) and other enzymes that hydrolyze pectin will likely work with this kit, however the enzyme unit definition for this kit refers to endopolygalacturonase (EC 3.2.1.15). So the results of this kit are reported as activity of EC 3.2.1.15.


Why is there no pectinase enzyme standard in this kit?
Pectinase may not remain stable so pectinase activity is matched with the included calibrator. The optical density of the calibrator matches the optical density of wells assayed with 100 U/L pectinase under the standard assay conditions.
No citations for this new product. Please check back later. You may click here to check if citations are available, but are not listed here yet.
If you or your labs do not have the equipment or scientists necessary to run this assay, BioAssay Systems can perform the service for you.
– Fast turnaround
– Quality data
– Low cost
Please email or call 1-510-782-9988 x 2 to discuss your projects.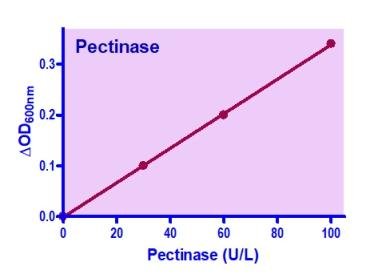 Catalog No:
DPEC-100
Categories
Agriculture & Environment, Enzyme Activity, Food & Beverage Analysis, Metabolism
Tags
Agriculture & Environment, DPEC-100, Enzyme Activity, Food & Beverage Analysis, metabolism, Pectinase assay kits, Pectinase determination kits, Pectinase measurement kits, Pectinase test kits, QuantiChrom Pectinase Assay Kits, QuantiChromTM Pectinase Assay Kit
For bulk quote or custom reagents, please email or call 1-510-782-9988 x 1.

Orders are shipped the same day if placed by 2pm PST
Shipping: RT
Carrier: Fedex
Delivery: 1-2 days (US), 3-6 days (Intl)
Storage: -20°C upon receipt
Quality and User-friendly • Expert Technical Support • Competitive Prices • Expansive Catalogue • Trusted Globally