QuantiChrom™ Sulfate Assay Kit
Application
For quantitative determination of sulfate ion and evaluation of drug effects on sulfate metabolism.
Key Features
Sensitive and accurate. Detection range 0.02 mM (0.19 mg/dL) to 2 mM (19.2 mg/dL) sulfate in 96-well plate assay.
Simple and high-throughput. The procedure involves addition of a single working reagent and incubation for 5 min.
Method
Samples
Serum, urine, food and environment
Species
Procedure
Size
Detection Limit
Shelf Life
More Details
INORGANIC SULFATE is one of the most abundant anions in mammalian plasma. Sulfate plays important physiological roles in activating and detoxifying xenobiotics, steroids, neurotransmitters, and bile acids. Sulfate is needed for the biosynthesis of glycosaminoglycans, cerebroside sulfate, and heparin sulfate. Undersulfation of cartilage proteoglycans has been associated with human inherited osteochon-drodysplasia disorders. In mammals, sulfate homeostasis is regulated by the kidney. The majority of filtered sulfate is absorbed in the proximal tubules, and only 5-20% of the filtered load is excreted into the urine. Simple, direct and automation-ready procedures for quantitative determination of inorganic sulfate find wide applications in research and drug discovery. BioAssay Systems sulfate assay kit is designed to measure sulfate concentration in biological fluids such as serum and urine. The improved method utilizes the quantitative formation of insoluble barium sulfate in polyethylene glycol. The turbidity measured between 540 and 610nm is proportional to sulfate level in the sample.
What is the mechanism of this kit?
This assay is based on barium in the kit forming barium sulfate with sulfate in a sample, which is insoluble. This insoluble compound is measured turbidimetrically.


What samples are compatible with this kit?
This sample has been tested with rat, human, and fetal bovine serum. It has also been tested with human urine. For other samples, we would recommend looking at the "Product Citations" tab to check whether the kit has been used by researchers for your particular sample. Additionally, our technical support can provide suggestions for how to process a sample before running the assay.
Marczynski, M et al (2020). Charged Glycan Residues Critically Contribute to the Adsorption and Lubricity of Mucins. Colloids and surfaces. B, Biointerfaces, 187, 110614. Assay: sulfate in bovine mucin.

Kida, Y., Yamamoto, T., & Kuwano, K. (2020). SdsA1, a Secreted Sulfatase, Contributes to the in Vivo Virulence of Pseudomonas Aeruginosa in Mice. Microbiology and immunology, 64(4), 280-295. Assay: sulfate in P. aeruginosa culture supernatant filtrate.

Sedlak, L., Wojnar, W., Zych, M., Wygledowska-Promienska, D., Mrukwa-Kominek, E., & Kaczmarczyk-Sedlak, I. (2018). Effect of Resveratrol, a Dietary-Derived Polyphenol, on the Oxidative Stress and Polyol Pathway in the Lens of rats with Streptozotocin-Induced Diabetes. Nutrients, 10(10), 1423. Assay: Sulfate in rat blood.

Tise, C. G., Anforth, L. E., Zhou, A. E., Perry, J. A., McArdle, P. F., Streeten, E. A. & Yerges-Armstrong, L. M. (2017). Sex-specific effects of serum sulfate level and SLC13A1 nonsense variants on DHEA homeostasis. Molecular genetics and metabolism reports, 10, 84-91. Assay: Sulfate in human serum.

Perry, C. G. (2016). A Macro View of a Micronutrient: Revealing the Genetics and Elucidating the Impact of Serum Sulfate on human Health in the Old Order Amish (Doctoral dissertation). Assay: Sulfate in human serum.

de Gouw, D., Hermans, P. W., Bootsma, H. J., Zomer, A., Heuvelman, K., Diavatopoulos, D. A., & Mooi, F. R. (2014). Differentially Expressed Genes in Bordetella pertussis Strains Belonging to a Lineage Which Recently Spread Globally. PloS one 9(1): e84523. Assay: Sulfate in B. pertussis cell culture medium.

Bose, A., Rogers, D. R., Adams, M. M., Joye, S. B., & Girguis, P. R. (2013). Geomicrobiological linkages between short-chain alkane consumption and sulfate reduction rates in seep sediments. Frontiers in microbiology, 4. Assay: Sulfate in garden banks mud volcano site sediment.

Neff, M. W., Beck, J. S., Koeman, J. M., Boguslawski, E., Kefene, L., Borgman, A., & Ruhe, A. L. (2012). Partial deletion of the sulfate transporter SLC13A1 is associated with an osteochondrodysplasia in the Miniature Poodle breed. PloS one 7(12): e51917. Assay: Sulfate in miniature poodle blood, urine.

Reiser, V et al (2011). High-throughput simultaneous analysis of RNA, protein, and lipid biomarkers in heterogeneous tissue samples. Clinical chemistry 57(11): 1545-1555. Assay: Sulfate in human protein extract from plaque.

Wang, ZM et al (2011). Structural characterisation and immunomodulatory property of an acidic polysaccharide from mycelial culture of Cordyceps sinensis fungus Cs-HK1. Food Chemistry 125(2):637-43. Assay: Sulfate in fungi.

Ben Mansour, M., et al. (2010). Highly sulfated dermatan sulfate from the skin of the ray Raja montagui: anticoagulant activity and mechanism of action. Comp Biochem Physiol B Biochem Mol Biol 156(3):206-15. Assay: Sulfate in fish.

Sun X et al (2010). Deletion of the pH sensor GPR4 decreases renal acid excretion. J Am Soc Nephrol. 21(10):1745-55. Assay: Sulfate in mouse urine.

Ben Mansour, M., et al. (2009). Characterization of a novel dermatan sulfate with high antithrombin activity from ray skin (Raja radula). Thromb Res 123(6):887-94. Assay: Sulfate in fish.

Ben Mansour, M., et al. (2009). Polysaccharides from the skin of the ray Raja radula. Partial characterization and anticoagulant activity. Thromb Res 123(4):671-8. Assay: Sulfate in fish.

Majdoub, H., et al. (2009). Anticoagulant activity of a sulfated polysaccharide from the green alga Arthrospira platensis. Biochim Biophys Acta 1790(10):1377-81. Assay: Sulfate in Arthrospira platensis.

To find more recent publications, please click here.
If you or your labs do not have the equipment or scientists necessary to run this assay, BioAssay Systems can perform the service for you.
– Fast turnaround
– Quality data
– Low cost
Please email or call 1-510-782-9988 x 2 to request assay service.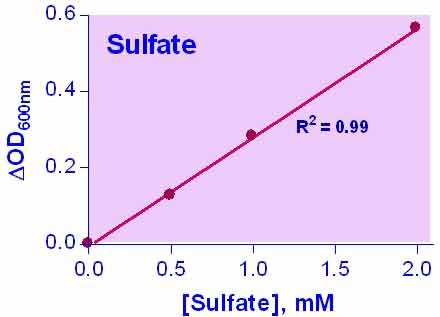 For orders of 10 or more kits, please call +1-510-782-9988×1 or email us for best pricing and/or bulk order.

Orders are shipped the same day if placed by 2pm PST
Shipping: RT
Carrier: Fedex
Delivery: 1-2 days (US), 3-6 days (Intl)
Storage: RT upon receipt