EnzyFluo™ Myeloperoxidase Assay Kit
Application
For quantitative determination of myeloperoxidase enzyme activity and evaluation of drug modulators.
Key Features
Fast and sensitive. Linear detection range (20 µL sample): 0.0025 to 2 U/L for 10 min reaction at 25°C.
Convenient and high-throughput. Homogeneous "mix-incubate-measure" type assay. Can be readily automated on HTS liquid handling systems for processing thousands of samples per day.
Method
Samples
Cell lysates, tissues, etc
Species
Procedure
Size
Detection Limit
Shelf Life
More Details
MYELOPEROXIDASE
(MPO; EC 1.11.2.2) is a peroxidase enzyme and can be found in neutrophils, monocytes, and some soft tissue macrophages. MPO has the ability to use chloride as a cosubstrate with hydrogen peroxide to generate hypochlorous acid, a powerful antimicrobial agent produced by neutrophils. However, excessive production of hypochlorous acid can lead to oxidative stress and tissue damage. Inflammation may also result when MPO oxidizes various substances such as phenols and anilines. Studies show that increased MPO levels may increase the risk of myocardial infarction and cardiovascular disease.BioAssay Systems EnzyFluo
TM
myeloperoxidase (MPO) assay kit is based on the MPO enzyme reaction with hydrogen peroxide (H
2
O
2
) which oxidizes the dye reagent to a highly fluorescent product. The fluorescence intensity of this product, measured at &labda; ex/em = 530/585 nm, is proportional to the total peroxidation activity in the sample. The provided MPO inhibitor is used to suppress peroxidase activity due to MPO in order to differentiate other peroxidase activities that may be present in the samples. Related Categories:Oxidative-Stress.htm" target=_blank>Oxidative Stress, Enzyme-Activity-Assays.htm" target=_blank>Enzyme Activity Assays
What samples have you tested?
The assay kit has been tested in purified myeloperoxidase, tissue and cell samples. Please follow the directions on the protocol for sample pretreatment.


What is the benefit of using a myeloperoxidase inhibitor in the assay?
The provided MPO inhibitor is used to suppress peroxidase activity due to MPO in order to differentiate other peroxidase activities that may be present in the samples. The difference in fluorescence intensities between sample and this sample blank is used to compute enzyme activity specifically due to myeloperoxidase.


I don't have the correct wavelength filter, what other wavelength(s) would work?
The assay can be measured at excitation 500-540 nm and emission at 560-590 nm. Reading outside this range will result in a significant decrease in sensitivity.


Will the assay kit work in a 384 well plate?
Yes, the assay can be used in any standard plate. Simply adjust the sample and reagent volumes accordingly. For 384 well use 20-90 µL final reaction volume.


Can I store unused reagents for future use?
Yes, unused reagents can be stored according to the assay protocol. Repeated freeze/thaw cycles of reagents should be avoided. Working Reagents should be made fresh for each assay and used within 1 hour.


Do I need to use a standard or standard curve with each assay run?
Yes, it is highly recommended run the resorufin standard in each assay.
Son, A., et al (2019). Ca2+ influx channel inhibitor saraf protects mice from acute pancreatitis. Gastroenterology, 157(6), 1660-1672.e2. Assay: Myeloperoxidase in mouse tissue.

Hashim, A. A., Helmy, M. M., & Mouneir, S. M. (2018). Cysteinyl leukotrienes predominantly mediate cisplatin-induced acute renal damage in male rats. Journal of Physiology and Pharmacology, 69(5), 779-787. Assay: Myeloperoxidase in rat kidney.

Helmy, M. M., Hashim, A. A., & Mouneir, S. M. (2018). Zileuton alleviates acute cisplatin nephrotoxicity: Inhibition of lipoxygenase pathway favorably modulates the renal oxidative/inflammatory/caspase-3 axis. Prostaglandins & other lipid mediators, 135, 1-10. Assay: Myeloperoxidase in rat tissue.

To find more recent publications, please click here.
If you or your labs do not have the equipment or scientists necessary to run this assay, BioAssay Systems can perform the service for you.
– Fast turnaround
– Quality data
– Low cost
Please email or call 1-510-782-9988 x 2 to discuss your projects.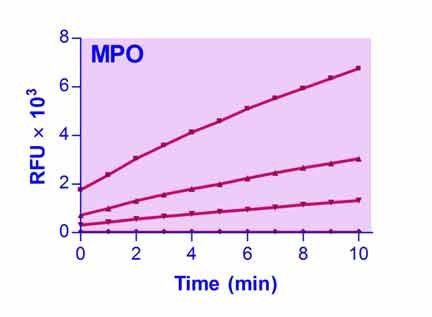 For bulk quote or custom reagents, please email or call 1-510-782-9988 x 1.

Orders are shipped the same day if placed by 2pm PST
Shipping: On Ice
Carrier: Fedex
Delivery: 1-2 days (US), 3-6 days (Intl)
Storage: -20°C upon receipt
Quality and User-friendly • Expert Technical Support • Competitive Prices • Expansive Catalogue • Trusted Globally