EnzyChrom™ Monoamine Oxidase Assay Kit
Application
For rapid, quantitative determination of monoamine oxidase activity and MAO inhibitor screen.
Key Features
Safe. Non-radioactive assay.
Sensitive and accurate. As low as 0.01 U/L MAO activity can be quantified.
Homogeneous and convenient. "Mix-incubate-measure" type assay. No wash and reagent transfer steps are involved.
Robust and amenable to HTS: can be readily automated on HTS liquid handling systems for processing thousands of samples per day.
Method
Samples
Species
Procedure
Size
Detection Limit
Shelf Life
More Details
Monoamine oxidases
(MAO, EC 1.4.3.4) are a family of mitochondrial enzymes that catalyze the oxidative deamination of monoamines. MAO dysfunction is thought to be responsible for a number of neurological disorders. Unusually high or low levels of MAOs in the body have been associated with depression, schizophrenia, substance abuse, attention deficit disorder, migraines, and irregular sexual maturation. MAO inhibitors are one of the major classes of drug prescribed for the treatment of depression. BioAssay Systems' MAO Assay Kit provides a convenient fluorimetric means to measure MAO enzyme activity. In the assay, MAO reacts with p-tyramine, a substrate for both MAO-A and MAO-B, resulting in the formation of H
2
O
2
, which is determined by a fluorimetric method (λex/em = 530/585nm). The assay is simple, sensitive, stable, and high-throughput adaptable.
Is it necessary to extract MAO from all biological samples by homogenization and differential centrifugation?
Unless one uses pure MAO enzyme, all biological samples will have to be processed e.g. by homogenization in order to release MAO. The exact protocol may vary depending on the sample used and we suggest to research the literature on which methods are suitable for that particular sample. The reference on the data sheet is one example for such a preparation method.
Ishikawa, T., Okano, M., Minami, A., Tsunekawa, H., Satoyoshi, H., Tsukamoto, Y., & Muraoka, S. (2019). Selegiline ameliorates depression-like behaviors in rodents and modulates hippocampal dopaminergic transmission and synaptic plasticity. Behavioural Brain Research, 359, 353-361. Assay: Monoamine oxidase in rat Brain tissue.

To find more recent publications, please click here.
If you or your labs do not have the equipment or scientists necessary to run this assay, BioAssay Systems can perform the service for you.
– Fast turnaround
– Quality data
– Low cost
Please email or call 1-510-782-9988 x 2 to discuss your projects.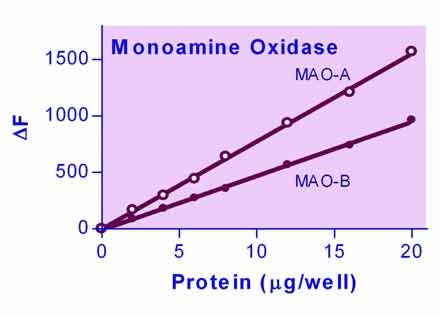 For bulk quote or custom reagents, please email or call 1-510-782-9988 x 1.

Orders are shipped the same day if placed by 2pm PST
Shipping: On Ice
Carrier: Fedex
Delivery: 1-2 days (US), 3-6 days (Intl)
Storage: -20°C upon receipt
Quality and User-friendly • Expert Technical Support • Competitive Prices • Expansive Catalogue • Trusted Globally