EnzyChrom™ Glucose Assay Kit II
Application
For quantitative determination of glucose and evaluation of drug effects on glucose metabolism.
Key Features
Sensitive and accurate. Use as little as 20 µL samples. Linear detection range in 96-well plate: 0.1 to 3 mM (1.8 mg/dL to 54 mg/dL) glucose for colorimetric assays.
Convenient. Room temperature assay. No 37°C heater is needed.
Simple and high-throughput. The procedure involves the addition of a single working reagent and incubation for 20 min at room temperature. Homogeneous "mix-incubate-measure" type assay. Can be readily automated on HTS liquid handling systems for processing thousands of samples per day.
Method
Samples
Serum, plasma, urine, saliva, milk, culture medium, food, beverages, etc
Species
Procedure
Size
Detection Limit
Shelf Life
More Details
Glucose (C
6
H
12
O
6
) is a key diagnostic parameter for many metabolic disorders. Increased glucose levels have been associated with diabetes mellitus, and hyperactivity of the thyroid, pituitary, and adrenal glands. Decreased levels are found in insulin-secreting tumors, myxedema, hypopituitarism, and hypoadrenalism. Simple, direct, and high-throughput assays for measuring glucose concentrations find wide applications in research and drug discovery. BioAssay Systems glucose assay kit II uses an enzyme to reduce NAD. The produced NADH, measured at 340 nm, is proportional to the glucose concentration in the sample
What are the differences between the three EnzyChrom Glucose assay kits?
EBGL – best at detecting low levels of glucose (as low as 5 µM)
EGL2 – best at measuring high levels of glucose using a low wavelength filter (340 nm)
EGL3 – best at measuring high levels of glucose using a high wavelength filter (565 nm)


Which of the three EnzyChrom Glucose assay kits can be used with urine, saliva, or serum samples?
EBGL – Not recommended for urine, saliva, or serum samples
EGL2 – Compatible with urine and serum samples, not recommended for saliva samples
EGL3 – Recommended for urine, saliva, and serum samples
*Sample blanks are to be used when testing urine samples with EGL2 or EGL3.
No citations for this new product. Please check back later. You may click here to check if citations are available, but are not listed here yet.
If you or your labs do not have the equipment or scientists necessary to run this assay, BioAssay Systems can perform the service for you.
– Fast turnaround
– Quality data
– Low cost
Please email or call 1-510-782-9988 x 2 to discuss your projects.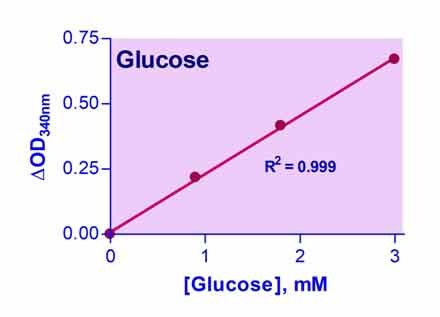 Catalog No:
EGL2-100
Categories
Diabetes & Obesity, Food & Beverage Analysis, Metabolism
Tags
Diabetes & Obesity, EGL2-100, EnzyChrom Glucose II Assay Kits, EnzyChromTM Glucose Assay Kit II, Food & Beverage Analysis, Glucose II assay kits, Glucose II determination kits, Glucose II measurement kits, Glucose II test kits, metabolism
For bulk quote or custom reagents, please email or call 1-510-782-9988 x 1.

Orders are shipped the same day if placed by 2pm PST
Shipping: On Ice
Carrier: Fedex
Delivery: 1-2 days (US), 3-6 days (Intl)
Storage: -20°C upon receipt
Quality and User-friendly • Expert Technical Support • Competitive Prices • Expansive Catalogue • Trusted Globally