QuantiChrom™ Glucose Assay Kit
Application
For quantitative determination of glucose and evaluation of drug effects on glucose metabolism.
Key Features
Sensitive and accurate. Use as little as 5 µL samples. Linear detection range from 0.7 mg/dL (39 µM) to 300 mg/dL (16.6 mM) glucose in a 96-well plate.
Simple and convenient. The procedure involves the addition of a single working reagent and incubation for 8 min in a boiling water bath.
Improved reagent stability. The optimized formulation has greatly enhanced the reagent and signal stability.
Low interference in biological samples. No pretreatments are needed. Assays can be directly performed on serum and plasma samples.
Method
Samples
Biological, food, and beverage
Species
Procedure
Size
Detection Limit
Shelf Life
More Details
Glucose
(C
6
H
12
O
6
) is a ubiquitous fuel molecule in biology. It is oxidized through a series of enzyme-catalyzed reactions to form carbon dioxide and water, yielding the universal energy molecule ATP. Due to its importance in metabolism, glucose level is a key diagnostic parameter for many metabolic disorders. Increased glucose levels have been associated with diabetes mellitus, and hyperactivity of the thyroid, pituitary, and adrenal glands. Decreased levels are found in insulin-secreting tumors, myxedema, hypopituitarism, and hypoadrenalism. Simple, direct, and automation-ready procedures for measuring glucose concentrations find wide applications in research and drug discovery. BioAssay Systems glucose assay kit is designed to measure glucose directly in serum or plasma without any pretreatment. The improved o-toluidine method utilizes a specific color reaction with glucose. The absorbance at 630nm is directly proportional to glucose concentration in the sample.
What is the principle of the assay?
The QuantiChrom™ Glucose Assay is based on the formation of a blue-green complex between D-glucose and o-toluidine. The carbonyl group in the open aldehyde form of D-glucose condenses with the amino group of o-toluidine to form a stoichiometric colored imino adduct.


Does this assay measure fructose?
The reaction is specific to aldosugars (such as glucose) but not ketosugars (such as D-fructose). For instance in an equimolar solution of glucose and fructose, this method will measure only glucose.


What other sugars interfere with it?
Aldosugars would interfere in this assay, such as glyceraldehyde, ribose, arabinose, xylose, mannose, galactose. However, as glucose is the main sugar in biological samples (e.g. serum, cell culture medium), the interference is most often negligible.


Does phenol red in culture medium interfere with the glucose assay?
No, phenol red in the culture media does not interfere with this assay.
Helmy, M. M., & Mouneir, S. M. (2019). Reno-protective effect of linagliptin against gentamycin nephrotoxicity in rats. Pharmacological Reports: PR 71(6): 1133-1139. Assay: Glucose in rat.

Lambert, K., et al. (2021). Grape polyphenols and exercise training have distinct molecular effects on cardiac hypertrophy in a model of obese insulin-resistant rats. The Journal of Nutritional Biochemistry 87: 108522. Assay: Glucose in rat blood.

Zhang, Y., et al. (2020). Edgeworthia gardneri (Wall.) Meisn. water extract ameliorates palmitate induced insulin resistance by regulating IRS1/GSK3β/FoxO1 signaling pathway in human HepG2 hepatocytes. Frontiers in Pharmacology 10: 1666. Assay: Glucose in human hepatocyte.

Wong, S. K., et al. (2019). Leptin, adiponectin and insulin as regulators for energy metabolism in a rat model of metabolic syndrome. Sains Malaysiana 48(12): 2701-2707. Assay: Glucose in rat serum.

Alghadir, A. H., et al. (2021). Moderate aerobic training modulates cytokines and cortisol profiles in older adults with cognitive abilities. Cytokine 138: 155373. Assay: Glucose in human serum.

Ticiani, E., et al. (2020). Biochemical and metabolic profiles in in vivo- and in vitro-derived concepti in cattle. Livestock Science 233: 103947. Assay: Glucose in cattle plasma.

Jeong, S., et al. (2021). High fructose drives the serine synthesis pathway in acute myeloid leukemic cells. Cell Metabolism 33(1): 145-159.e6. Assay: Glucose in leukemic cells.

Zhu, M., et al. (2020). Identification and gene mapping of the starch accumulation and premature leaf senescence mutant ossac4 in rice. Journal of Integrative Agriculture 19(9): 2150-2164. Assay: Glucose in rice plant leaf.

Logarbo, J. R., Bonvillain, C. P. (2020). Thermal stress responses of two sympatric crayfishes in Louisiana, Procambarus clarkii Girard, 1852 and Procambarus zonangulus Hobbs & Hobbs, 1990 (Decapoda: Astacoidea: cambaridae). Journal of Crustacean Biology 40(6): 734-738. Assay: Glucose in crayfish hemolymph.

Allred, S., et al. (2020). Effects of acute environmental and handling exposure on physiology and fillet quality of market-sized Channel Catfish. Aquaculture Research 51(5): 1854-1866. Assay: Glucose in catfish plasma.

NV, M., et al. (2019). The effects of annatto tocotrienol on body composition and serum adiponectin, leptin and glucose level in a rat model of androgen deficiency induced by buserelin. Med & Health 14(2): 168-179. Assay: Glucose in rat serum.

Zhang, Y., et al. (2020). Ultraconserved element uc.333 increases insulin sensitivity by binding to miR-223. Aging 12(8): 6667-6679. Assay: Glucose in human and mouse cells.

Duarte, A. I., et al. (2020). Liraglutide protects against brain amyloid-β1-42 accumulation in female mice with early alzheimer 's disease-like pathology by partially rescuing oxidative/nitrosative stress and inflammation. International Journal of Molecular Sciences 21(5). Assay: Glucose in mouse brain cortices.

Gunn, M. (2020). Effects of the trematode Bolbophorus damnificus on channel and hybrid catfish. Assay: Glucose in catfish plasma.

Kazemi, M., McBreairty, L., Chizen, D., Pierson, R., Chilibeck, P., & Zello, G. (2018). A Comparison of a Pulse-Based Diet and the Therapeutic Lifestyle Changes Diet in Combination with Exercise and Health Counselling on the Cardio-Metabolic Risk Profile in Women with Polycystic Ovary Syndrome: A Randomized Controlled Trial. Nutrients, 10(10), 1387. Assay: Glucose in human plasma.

Amrithraj, A. I., Kodali, A., Nguyen, L., Teo, A. K. K., Chang, C. W., Karnani, N. & Stunkel, W. (2017). Gestational diabetes alters functions in offspring's umbilical cord cells with implications for cardiovascular health. Endocrinology, 158(7), 2102-2112. Assay: Glucose in human cells.

Chen, X., Xu, H., Wu, N., Liu, X., Qiao, G., Su, S. & Lin, X. (2017). Interaction between granulin A and enolase 1 attenuates the migration and invasion of human hepatoma cells. Oncotarget 8(18): 30305-30316. Assay: Glucose in human lung tissue/plasma.

McMurphy, T. B. (2017). Environmental and gene therapy approaches to improve glycemic control and promote healthy aging (Doctoral dissertation, The Ohio State University). Assay: Glucose in mice blood.

Toorie, A. M., Cyr, N. E., Steger, J. S., Beckman, R., Farah, G., & Nillni, E. A. (2016). The nutrient and energy sensor Sirt1 regulates the hypothalamic-pituitary-adrenal (HPA) axis by altering the production of the prohormone convertase 2 (PC2) essential in the maturation of corticotropin-releasing hormone (CRH) from its prohormone in male rats. Journal of Biological Chemistry, 291(11), 5844-5859. Assay: Glucose in Sprague Dewley rats plasma.

Chiu LL, Radisic M (2010). Scaffolds with covalently immobilized VEGF and Angiopoietin-1 for vascularization of engineered tissues. Biomaterials 31(2):226-41. Assay: Glucose in human endothelial cells.

Hedbacker, K et al (2010). Antidiabetic effects of IGFBP2, a leptin-regulated gene. Cell Metab. 11(1):11-22. Assay: Glucose in mouse blood.

Olsen AS, et al (2010). Limb regeneration is impaired in an adult zebrafish model of diabetes mellitus. Wound Repair Regen. 18(5):532-42. Assay: Glucose in zebrafish blood.

Vaitheesvaran B, et al (2010). MKR mice have increased dynamic glucose disposal despite metabolic inflexibility, and hepatic and peripheral insulin insensitivity. Diabetologia 53(10):2224-32. Assay: Glucose in mice serum.

Cirrik S, Oner G. (2009). The effect of heavy muscle activity on renal cytoresistance in rats. Ren Fail. 31(8):683-9. Assay: Glucose in rat urine.

Li, L et al (2009). The nuclear orphan receptor COUP-TFII plays an essential role in adipogenesis, glucose homeostasis, and energy metabolism. Cell Metab. 9(1):77-87. Assay: Glucose in mouse plasma.

Sekowska, A et al (2009). Repulsion and metabolic switches in the collective behavior of bacterial colonies. Biophys J. 97(3):688-98. Assay: Glucose in bacteria cell lysate.

Sullivan JP, et al (2008). Convection and hemoglobin-based oxygen carrier enhanced oxygen transport in a hepatic hollow fiber bioreactor. Artif Cells Blood Substit Immobil Biotechnol. 36(4):386-402. Assay: Glucose in bioreactors daily media.

Zheng Y, et al (2007). Evaluation of different biomass materials as feedstock for fermentable sugar production. Appl Biochem Biotechnol. 137-140(1-12):423-35. Assay: Glucose in wood enzyme.

Jatana M, et al (2006). Inhibition of NF-kappaB activation by 5-lipoxygenase inhibitors protects brain against injury in a rat model of focal cerebral ischemia. J Neuroinflammation 3:12. Assay: Glucose in rat plasma.

Stites T, et al (2006). Pyrroloquinoline quinone modulates mitochondrial quantity and function in mice. J Nutr. 136(2):390-6. Assay: Glucose in mice plasma.

To find more recent publications, please click here.
If you or your labs do not have the equipment or scientists necessary to run this assay, BioAssay Systems can perform the service for you.
– Fast turnaround
– Quality data
– Low cost
Please email or call 1-510-782-9988 x 2 to discuss your projects.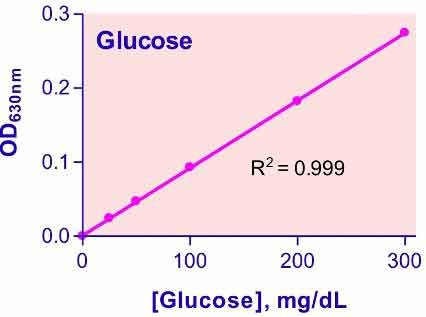 Catalog No:
DIGL-100
Categories
Agriculture & Environment, Blood & Urine Chemistry, Food & Beverage Analysis, Metabolism
Tags
Agriculture & Environment, Blood & Urine Chemistry, DIGL-100, Food & Beverage Analysis, Glucose assay kits, Glucose determination kits, Glucose measurement kits, Glucose test kits, metabolism, QuantiChrom Glucose Assay Kits, QuantiChromTM Glucose Assay Kit
For bulk quote or custom reagents, please email or call 1-510-782-9988 x 1.

Orders are shipped the same day if placed by 2pm PST
Shipping: RT
Carrier: Fedex
Delivery: 1-2 days (US), 3-6 days (Intl)
Storage: -20°C upon receipt
Quality and User-friendly • Expert Technical Support • Competitive Prices • Expansive Catalogue • Trusted Globally