QuantiChrom™ Free Amino Nitrogen Assay Kit
Application
For quantitative determination of free amino nitrogen in foods and beverages.
Key Features
Fast and sensitive. Linear detection range (5 µL sample): 0.2 to 10 mM for 10 min reaction.
Convenient and high-throughput. Homogeneous "mix-incubate-measure" type assay. Can be readily automated to process thousands of samples per day.
Method
Samples
Species
Procedure
Size
Shelf Life
More Details
FREE AMINO NITROGEN (FAN) is the main source of nitrogen necessary for yeast growth and proper fermentation. Fermentation of beer and wine is processed by yeast, which synthesize proteins using available amino acids. When making beer and wine, free amino nitrogen is extracted from amino acids during the formation of the wort or must.BioAssay Systems' Free Amino Nitrogen assay measures alpha amino acids, ammonia, and end group amino nitrogens. The ninhydrin based reaction is a superior method for determining only alpha amino acids and ammonia compared to the traditional Kjeldahl, which measures nitrogen from all sources. Only requiring low sample volumes, the stable ninhydrin reagent provides a simple and accurate method for determining Free Amino Nitrogen concentrations.
How do I store the kit?
This kit is shipped at room temperature. Upon receiving, please store the Reagent A, Reagent B, and Standard in the refrigerator (4°C).


Do I need to use a standard or standard curve with each assay run?
Yes, it is highly recommended.


I am not obtaining consistent data, what could be the problem?
This assay is pH dependent; therefore, temperature can affect the results. Be sure to equilibrate all components to room temperature before each assay.


My reader is only accurate to OD 1.0, Can I use this assay on it?
The assay standards reach ODs less than 1.0. If your reader is not accurate to OD 2.0, we suggest diluting samples at least ten-fold in dH2O so they fall within this range and are corrected for dilution factor in calculations.


Can I store unused reagents for future use?
Yes, unused reagents can be stored according to the assay protocol.


What samples have you tested?
The kit has been tested on completely fermented light beers, dark beers, beer wort at various stages (post-mash, start of boil, and end of fermentation), and red and white wines.
No citations for this new product. Please check back later. You may click here to check if citations are available, but are not listed here yet.
If you or your labs do not have the equipment or scientists necessary to run this assay, BioAssay Systems can perform the service for you.
– Fast turnaround
– Quality data
– Low cost
Please email or call 1-510-782-9988 x 2 to discuss your projects.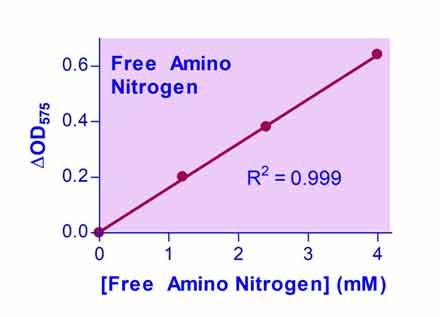 For bulk quote or custom reagents, please email or call 1-510-782-9988 x 1.

Orders are shipped the same day if placed by 2pm PST
Shipping: RT
Carrier: Fedex
Delivery: 1-2 days (US), 3-6 days (Intl)
Storage: 4°C upon receipt
Quality and User-friendly • Expert Technical Support • Competitive Prices • Expansive Catalogue • Trusted Globally