EnzyChrom™ Ethanol Assay Kit
Application
For quantitative determination of ethanol and evaluation of drug effects on alcohol metabolism.
Key Features
Sensitive and accurate. Detection limit 0.0008 vol % (140 µM or 8 ppm), linearity up to 0.1% ethanol in 96-well plate assay.
Convenient. The procedure involves adding working reagent, incubating for 30 min and stopping reaction. No 37°C heater is needed.
High-throughput. Can be readily automated as a high-throughput 96-well plate assay for thousands of samples per day.
Method
Samples
Serum, plasma, urine, saliva samples etc
Species
Procedure
Size
Detection Limit
Shelf Life
More Details
Alcoholic drinks are among the daily consumed beverages. Studies have shown heavy alcohol consumption may lead to various forms of liver diseases and to increased mortality rates. Quantitative determination of alcohol (ethanol, C2H5OH) has applications in basic research, drug discovery, clinic studies and in the alcoholic industry. Simple, direct and automation-ready procedures for measuring ethanol concentration are very desirable. BioAssay Systems EnzyChrom™ ethanol assay kit is based on alcohol dehydrogenase catalyzed oxidation of ethanol, in which the formed NADH is coupled to the formazan (MTT) chromogen. The intensity of the product color, measured at 565 nm, is proportionate to the ethanol concentration in the sampl
Does the assay react with methanol?
No, the assay does essentially not cross-react with methanol. Only at high concentrations (more than 100 mM methanol) will there be any significant nonspecific signal.
Chang, R. C., et al (2019). Programmed increases in LXRalpha induced by paternal alcohol use enhance offspring metabolic adaptation to high-fat diet induced obesity. Molecular Metabolism, 30, 161-172. Assay: Ethanol in mouse plasma.

Fructuoso, M., et al (2020). Ethanol-induced changes in brain of transgenic mice overexpressing dyrk1a. Molecular Neurobiology, 57(7), 3195-3205. Assay: Ethanol in mouse plasma.

Sharma, L., et al (2021). A standardized polyherbal preparation POL-6 diminishes alcohol withdrawal anxiety by regulating Gabra1, Gabra2, Gabra3, Gabra4, Gabra5 gene expression of GABAA receptor signaling pathway in rats. BMC Complementary Medicine and Therapies, 21(1), 13. Assay: Ethanol in rat plasma.

Montagud-Romero, S., et al (2021). Unraveling the molecular mechanisms involved in alcohol intake and withdrawal in adolescent mice exposed to alcohol during early life stages. Progress in Neuro-Psychopharmacology & Biological Psychiatry, 104, 110025 Assay: Ethanol in mouse plasma.

Qiao, Xiaomeng, et al (2017). 5-Aza-2′-deoxycytidine in the medial prefrontal cortex regulates alcohol-related behavior and Ntf3-TrkC expression in rats. PloS one 12.6: e0179469. Assay: Ethanol in rat plasma.

Zhou, Huiming, et al (2017). Alcohol exposure during pregnancy causes non-compaction cardiomyopathy in offspring mice. Journal of Third Military Medical University, 39(17): 1696-1701. Assay: Ethanol in mice serum.

Sanny, Tony, and Benjamin C. Stark (2016). Increased ethanol production by genetic engineering of microorganisms to express hemoglobin. U.S. Patent No. 9,309,540. Assay: Ethanol in microorganisms cell cuture.

Echevarria DJ, et al. (2011). Alcohol-induced behavior change in zebrafish models. Rev Neurosci. 22(1):85-93. Assay: Ethanol in zebrafish blood.

Magne L, et al. (2011). ATF4 and the integrated stress response are induced by ethanol and cytochrome P450 2E1 in human hepatocytes. J Hepatol. 54(4):729-37. Assay: Ethanol in human hepatocytes.

Echevarria,DJ and Hammack,CH (2010). Does acute alcohol exposure modulate aggressive behaviors in the zebrafish (Danio rerio), or is the bark worse than the bite. ijcp 23:62-69. Assay: Ethanol in zebrafish blood.

Ou XM, et al. (2010). A novel role for glyceraldehyde-3-phosphate dehydrogenase and monoamine oxidase B cascade in ethanol-induced cellular damage. Biol Psychiatry 67(9):855-63. Assay: Ethanol in human neuroblastoma cell.

Suwannarangsee S, et al. (2010). Characterization of alcohol dehydrogenase 1 of the thermotolerant methylotrophic yeast Hansenula polymorpha. Appl Microbiol Biotechnol. 88(2):497-507. Assay: Ethanol in yeast cell.

Pariset, JJ. al (2009). Alcohol Dose-Dependently Enhances 3 alpha-Androstanediol Formation in Frontal Cortex of Male rats Concomitant with Aggression. Open Neuropsychopharmacology 2:1-10. Assay: Ethanol in rat blood.

Jeong WI et al (2008). Paracrine activation of hepatic CB1 receptors by stellate cell-derived endocannabinoids mediates alcoholic fatty liver. Cell Metab. 7(3):227-35. Assay: Ethanol in mouse serum.

To find more recent publications, please click here.
If you or your labs do not have the equipment or scientists necessary to run this assay, BioAssay Systems can perform the service for you.
– Fast turnaround
– Quality data
– Low cost
Please email or call 1-510-782-9988 x 2 to discuss your projects.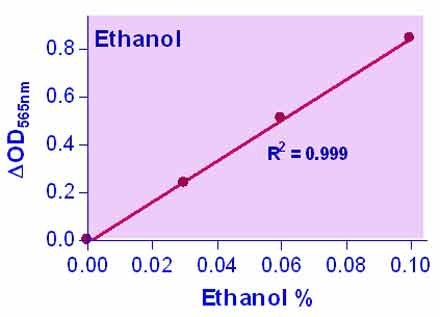 Catalog No:
ECET-100
Categories
Agriculture & Environment, Food & Beverage Analysis, Metabolism, Oxidative Stress
Tags
Agriculture & Environment, ECET-100, EnzyChrom Ethanol Assay Kits, EnzyChromTM Ethanol Assay Kit, Ethanol assay kits, Ethanol determination kits, Ethanol measurement kits, Ethanol test kits, Food & Beverage Analysis, metabolism, Oxidative Stress
For bulk quote or custom reagents, please email or call 1-510-782-9988 x 1.

Orders are shipped the same day if placed by 2pm PST
Shipping: On Ice
Carrier: Fedex
Delivery: 1-2 days (US), 3-6 days (Intl)
Storage: -20°C upon receipt
Quality and User-friendly • Expert Technical Support • Competitive Prices • Expansive Catalogue • Trusted Globally