QuantiQuik™ Urea (BUN) Quick Test Strips
Application
For rapid, direct determination of urea concentrations in food and beverage samples as well as biological samples. Note: Requires access to pipettes and deionized water for dilution. 20 uL Transfer Pipettes (Catalog: TP-20), 300 uL Transfer Pipettes (Catalog: TP-300) and Deionized Water (Catalog: DH2O-010) can also be purchased separately.
Key Features
Fast and sensitive. Use of 20 µL sample. Semi-quantitative measurement between 0-1500 mg/L (undiluted) urea.
Convenient. No expensive plate or cuvette readers needed.
Sample treatment and assay can be performed in under 15 minutes.
Method
Samples
Serum, plasma, urine, etc
Species
Procedure
Size
Shelf Life
More Details
UREA, the major end product of protein catabolism in animals, is primarily produced in the liver and secreted by the kidneys. It is the primary vehicle for removal of toxic ammonia from the body. Urea is widely used in the agricultural industry as a fertilizer as well as an animal feed additive. Milk urea is often monitored to determine the amount of protein in an animal's diet. Additionally, small amounts of urea can be found in many kinds of fermented foods and beverages.BioAssay Systems QuantiQuik™ Urea (BUN) Test Strips are based on Urease catalyzed conversion of urea to ammonium and carbon dioxide. The pH of the reaction medium is monitored by a chromogen and the intensity of the product color is directly proportional to the urea concentration in the sample. The QuantiQuik™ Urea Test strips allow for the rapid and inexpensive quantitative determination of urea or blood urea nitrogen (BUN) and do not require sophisticated laboratory instruments.
What samples have you tested?
The strips have been tested on serum, plasma, urine, and milk samples.


My sample turns the strip very dark pink, how can I determine the urea concentration?
Very dark pink indicates that the diluted sample concentration is greater than 1500 mg/L Urea. To obtain a more accurate concentration, the sample should be further diluted and retested. For example, if the sample was tested undiluted, try diluting 5× or 10×.


I don't have access to a pipetteman. How can I accurately measure out my samples?
We offer exact volume transfer pipettes as an accessory. For samples requiring a 2× dilution, order the 20 µL transfer pipettes (TP20). For samples requiring a 31× dilution, order the 300 µL transfer pipettes (TP300) and the 20 µL transfer pipettes (TP20).


Can I store unused reagents for future use?
Yes, unused reagents can be stored according to the assay protocol. The strips should be kept in a dry, cool location and protected from light.


The strip did not change color even though I know there is urea present in my sample. What is going on?
If the strip is still yellow, but is known to have urea present in it, this could mean that the sample was diluted too much and no longer can be detected by the strips. Another possibility is that something in the sample is interfering with the strip reaction. Samples that are very acidic may interfere with the strip reaction and should be greatly diluted or avoided if possible.
Zhang, X., Guo, K., Xia, F., Zhao, X., Huang, Z., & Niu, J. (2018). FGF23 C-tail improves diabetic nephropathy by attenuating renal fibrosis and inflammation. BMC biotechnology, 18(1), 33. Assay: Ureain mouse urine.

To find more recent publications, please click here.
If you or your labs do not have the equipment or scientists necessary to run this assay, BioAssay Systems can perform the service for you.
– Fast turnaround
– Quality data
– Low cost
Please email or call 1-510-782-9988 x 2 to discuss your projects.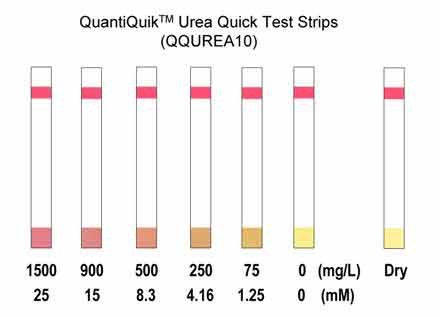 For bulk quote or custom reagents, please email or call 1-510-782-9988 x 1.

Orders are shipped the same day if placed by 2pm PST
Shipping: RT
Carrier: USPS
Delivery: 2-6 days (US), 6-15 days (intl)
Storage: RT upon receipt
Quality and User-friendly • Expert Technical Support • Competitive Prices • Expansive Catalogue • Trusted Globally