EnzyChrom™ D-Mannitol Assay Kit
Application
For quantitative determination of D-mannitol in biological, food, beverage and agriculture samples.
Key Features
Fast and sensitive. Use of 20 µL sample. Linear detection range 0.007 to 3 mM mannitol in 96-well plate assay.
Convenient. The procedure involves adding a single working reagent, and reading the absorbance after 30 minutes. Room temperature assay. No 37&degC heater is needed.
High-throughput. "Add-mix-read" type assay. Can be readily automated as a high-throughput 96-well plate assay for thousands of samples per day.
Method
Samples
Biological, food, beverage and agricultural products
Species
Procedure
Size
Detection Limit
Shelf Life
More Details
D-MANNITOL (C6H14O6) is a sugar alcohol used in dietary supplement, sweetener, intestinal permeability test for leaky gut, etc. It also serves as a coating for hard candies, dried fruits, and chewing gums due to its low ability to attract and hold water molecules. In addition, it is an osmoprotectant for plants and is used clinically in osmotherapy to reduce intracranial pressure.

BioAssay Systems D-mannitol assay kit is based on mannitol dehydrogenase catalyzed oxidation of D-mannitol, which generates D-fructose and NADH that reduces a formazan (MTT) dye. The intensity of product color, measured at 565 nm is directly proportional to D-mannitol concentration in the sample.
I don't have the correct wavelength filter, will the assay still work?
Typically if you are within ± 20 nanometers the assay will still work, but have slightly reduced sensitivity. Some assays have a narrower peak than others, call our tech support for a spectrum to verify.


I don't have a 96-well plate, will the assay kit work in a 384 well plate, cuvette, etc?
Yes, the assay can be used in any standard plate and cuvette. Simply adjust the total reaction volume to your container. For 384 well use 50 μL, for a cuvette use 500 μL or 1 mL.


Is the mannitol assay kit suitable for biological samples such as blood, urine, etc.?
The mannitol assay kit should be suitable for urine and blood samples as well as other biological samples. Some samples (e.g. cerebrospinal fluid) may contain mannitol under the detection limit (3 μM); however, they should be detectable as long as the concentration is > 3 μM.


How do I prepare the solid & liquid samples?
Solid Samples: chop or grind solid samples. Weigh 200 mg sample and homogenize (vortex or handheld homogenizer) in 800 μL H2O (Sample:H2O = 1 mg: 4 μL). Centrifuge homogenate at 14,000g for 5-10 min. Transfer the clear supernatant into a clean tube. It is prudent to run a pilot test of the sample at different dilutions. Choose a dilution with the readings in the detection range of the standard curve for assays. Most samples can be stored at -80°C if not assayed immediately.
Urine or Serum Samples: can be assayed direactly without dilution.


Can I store unused reagents for future use?
Yes, unused reagents can be stored according to the assay protocol. Repeated freeze/thaw cycles of reagents should be avoided. Since Assay Buffer is very light sensitive, always keeps buffer in the dark (amber bottle or tube) as much as possible for long term usage.


Can this manntiol assay kit detect L-Arabitol as well?
Unless the L-Arabitol is > 2M, this kit is unable to detect it.


Do I need to use a standard or standard curve with each assay run?
Yes, it is highly recommended.
Szafron, D. (2019). Development of an image based technique for assessment of colorectal epithelial integrity and function in an ovine model (Doctoral dissertation). Assay: D-Mannitol in fish Serum.

To find more recent publications, please click here.
If you or your labs do not have the equipment or scientists necessary to run this assay, BioAssay Systems can perform the service for you.
– Fast turnaround
– Quality data
– Low cost
Please email or call 1-510-782-9988 x 2 to request assay service.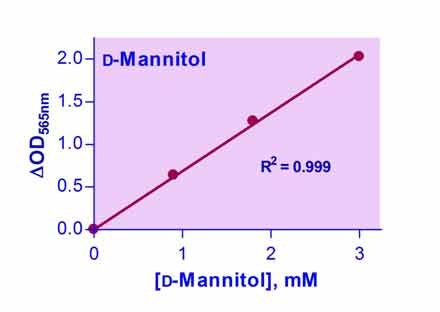 Catalog No :
EMNT-100
Categories
Agriculture & Environment, Food & Beverage Analysis, Metabolism
Tags
Agriculture & Environment, D-Mannitol assay kits, D-Mannitol determination kits, D-Mannitol measurement kits, D-Mannitol test kits, EMNT-100, EnzyChrom D-Mannitol Assay Kits, EnzyChromTM D-Mannitol Assay Kit, Food & Beverage Analysis, metabolism
For orders of 10 or more kits, please call +1-510-782-9988×1 or email us for best pricing and/or bulk order.

Orders are shipped the same day if placed by 2pm PST
Shipping: On Ice
Carrier: Fedex
Delivery: 1-2 days (US), 3-6 days (Intl)
Storage: -20°C upon receipt