QuantiFluo™ Urokinase Assay Kit
Application
For quantitative determination of urokinase activity determination in biological samples.
Key Features
Safe. Non-radioactive assay.
Fast. Assay is completed within a 15 minute reaction time.
Homogeneous "mix-incubate-measure" type assay. Can be readily automated to assay thousands of samples per day.
Method
Samples
Biological Samples (e.g. Urine and serum)
Species
Procedure
Size
Detection Limit
Shelf Life
More Details
UROKINASE PLASMINOGEN ACTIVATOR (urokinase, uPA)
is a key serine protease involved in the degradation of the extracellular matrix that catalyzes the conversion of plasminogen to active plasmin. It acts as a thrombolytic agent to break up blood clots and when over-expressed, has been reported to influence the growth of certain malignant tumors (breast, prostate, etc). BioAssay Systems' DUKN-100 Kit provides a convenient fluorimetric method to measure urokinase activity in biological samples. In this assay, the fluorimetric substrate reacts with urokinase so that the increase in fluorescence at λex/em = 380/450 nm is directly proportional to enzyme activity.
Does the kit come with Urokinase enzyme?
No, the user needs to provide their own purified enzyme.
No citations for this new product. Please check back later. You may click here to check if citations are available, but are not listed here yet.
If you or your labs do not have the equipment or scientists necessary to run this assay, BioAssay Systems can perform the service for you.
– Fast turnaround
– Quality data
– Low cost
Please email or call 1-510-782-9988 x 2 to discuss your projects.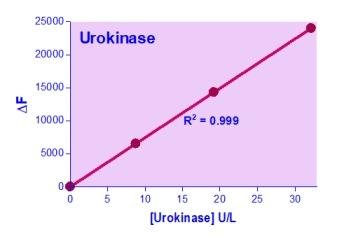 Catalog No:
DUKN-100
Categories
Blood & Urine Chemistry, Enzyme Activity, Metabolism
Tags
Blood & Urine Chemistry, DUKN-100, Enzyme Activity, metabolism, QuantiFluo Urokinase Assay Kits, QuantiFluoTM Urokinase Assay Kit, Urokinase assay kits, Urokinase determination kits, Urokinase measurement kits, Urokinase test kits
For bulk quote or custom reagents, please email or call 1-510-782-9988 x 1.

Orders are shipped the same day if placed by 2pm PST
Shipping: RT
Carrier: Fedex
Delivery: 1-2 days (US), 3-6 days (Intl)
Storage: -20° upon receipt
Quality and User-friendly • Expert Technical Support • Competitive Prices • Expansive Catalogue • Trusted Globally