EnzyChrom™ Formate Assay Kit
Application
For quantitative determination of formate and evaluation of drug effects on its metabolism.
Key Features
Fast and sensitive. Use of 10 µL sample. Linear detection range 0.050 to 5 mM Formate in 96-well plate assay.
Convenient. The procedure involves adding a single working reagent, and reading the absorbance after 60 minutes. Room temperature assay. No 37°C heater is needed.
High-throughput. "Add-mix-read" type assay. Can be readily automated as a high-throughput 96-well plate assay for thousands of samples per day.
Method
Samples
Species
Procedure
Size
Detection Limit
Shelf Life
More Details
FORMATE (HCOO–) is the anion derived from formic acid, the simplest carboxylic acid. It is also the metabolic byproduct of formaldehyde metabolism in our body, and the eventual metabolic byproduct of methanol which is first broken down to formaldehyde. At high levels, formate is neurotoxic to the central nervous system and can cause blindness, coma, and death. Although naturally present in the body at low levels, elevated levels of formate may be used as an indicator of formaldehyde exposure and methanol poisoning. BioAssay Systems formate assay kit is based on formate dehydrogenase catalyzed oxidation of formate, which generates carbon dioxide and NADH that reduces a formazan (MTT) dye. The intensity of the reduced MTT, measured at 565 nm, is directly proportional to formate concentration in the sample.
How do I store the kit?
The Kit is shipped on ice. Upon receiving, please keep the kit in the freezer (-20 to -10°C)


Can I store unused reagents for future use?
Yes, unused reagents can be stored according to the assay protocol. Repeated freeze/thaw cycles of reagents should be avoided, especially with enzymes; aliquot enzyme for storage to avoid unnecessary freeze/thaw cycles. Working reagent should be made fresh each day.


What samples have you tested?
We have tested the kit thoroughly on human urine. We have also tested the kit on human serum and bovine serum. The assay has been tested on typical concentrations of EDTA, Heparin, and Citrate used for anticoagulation in plasma and they did not show any significant interferences.


Do I need to use a standard or standard curve with each assay run?
Yes, it is highly recommended


Will the assay kit work in a 384 well plate, cuvette, etc?
Yes, the assay can be used in any standard plate and cuvette. Simply adjust the total reaction volume to your container. For 384 well use 20-90 μL, for a cuvette use 1 mL (some narrow cuvettes can hold 200-500 μL).


Does the assay work with saliva samples?
Yes, the assay has been tested and works with porcine saliva samples. Other saliva samples should work similarly.
No citations for this new product. Please check back later. You may click here to check if citations are available, but are not listed here yet.
If you or your labs do not have the equipment or scientists necessary to run this assay, BioAssay Systems can perform the service for you.
– Fast turnaround
– Quality data
– Low cost
Please email or call 1-510-782-9988 x 2 to request assay service.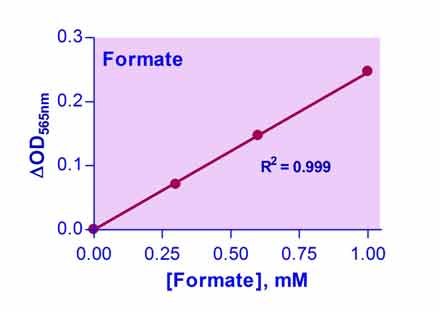 For orders of 10 or more kits, please call +1-510-782-9988×1 or email us for best pricing and/or bulk order.

Orders are shipped the same day if placed by 2pm PST
Shipping: On Ice
Carrier: Fedex
Delivery: 1-2 days (US), 3-6 days (Intl)
Storage: -20°C upon receipt