QuantiChrom™ Formaldehyde Assay Kit
Application
For quantitative and direct determination of formaldehyde concentrations in biological, food, and environmental samples.
Key Features
Safe. Non-radioactive assay.
Sensitive and accurate. As low as 1.5 µM (45 ppb) formaldehyde can be quantified.
Homogeneous and convenient. "Mix-incubate-measure" type assay. No wash and reagent transfer steps are involved.
Robust and amenable to HTS: Can be readily automated on HTS liquid handling systems for processing thousands of samples per day.
Method
Samples
Biological, food, beverage, environment
Species
Procedure
Size
Detection Limit
Shelf Life
More Details
FORMALDEHYDE
(methanal) is the simplest aldehyde. It is widely employed in the industry for a wide range of applications. Formaldehyde is also used as a disinfectant and is a commonly utilized tissue fixative and embalming agent. Formaldehyde is naturally present in all tissues and body fluids. Recently it has been shown that some cancer types exhibit elevated formaldehyde levels. Increased formaldehyde concentration in urine has been associated with prostate and bladder cancer. Thus, measuring formaldehyde in urine can be a very useful tool when studying cancer. BioAssay Systems's newly designed Formaldehyde Assay Kit provides a convenient fluorimetric means to measure formaldehyde in biological samples. In the assay, formaldehyde is derivatized with acetoacetanilide in the presence of ammonia. The resulting fluorescent product is then quantified fluorimetrically (λexc/em = 370/470nm). The assay is simple, sensitive, stable, and high-throughput adaptable. The assay can detect as low as 1.5 µM formaldehyde in biological samples.
What samples have you tested?
This kit has been tested in blood and urine samples.


Can I use whole blood samples?
We have done some tests in whole blood samples. In the internal standard method, the fluorescence intensity is greatly quenched so the sensitivity will be reduced by ~70X (detection limit to about 105 μM, way above typical formaldehyde concentrations in blood samples). As a result, it is not suitable for whole blood samples.
Below is a revised protocol for whole blood treatment and we have verified it works well. It is simple and quick. 100 μL blood is needed. For whole blood samples include the following revised deproteination protocol:
– Add 100 μL 10% TCA per 100 μL whole blood.
– Vortex and centrifuge 10 min at 14000 rpm
– Transfer 100 μL supernatant to clean tube and add 25 μL Neutralizer.
– Vortex and add 50 μL to 2 separate wells (1 well for full WR and one for Blank WR)
– Follow protocol, run a standard curve in dH2O. Read fluorescence for Sample, Sample Blank and the standards.
– Subtract RFU of Blank from sample RFU and multiply by 2.5 (dilution factor for deproteination). Divide corrected Sample ΔRFU by slope of water (H2O) standard curve.
This method can detect as low as 1.5 μM formaldehyde (same as in H2O).


What is the benefit of using an internal standard?
The use of an internal standard can correct for potential interference by sample matrix.


Will the assay kit work in a 384 well plate, cuvette, etc?
Yes, the assay can be used in any standard plate and cuvette. Simply adjust the total reaction volume to your container. For 384 well use 20-90 μL, for a cuvette use 1 mL (some narrow cuvettes can hold 200-500 μL).


Can I store unused reagents for future use?
Yes, unused reagents can be stored according to the assay protocol. Repeated freeze/thaw cycles of reagents should be avoided. Working Reagents should be made fresh for each assay.


Do I need to use a standard or standard curve with each assay run?
Yes, it is highly recommended.


Will the assay react with other aldehydes?
No, the assay is specific for formaldehyde and will not react with other aldehydes.
Ai, L.,et al. (2019). Endogenous formaldehyde is a memory-related molecule in mice and humans. Communications Biology, 2(1), 446. Assay: Formaldehyde in mouse tissue.

Zhai, R et al (2016). Evidence for Conversion of Methanol to Formaldehyde in Nonhuman Primate Brain. Analylatical Cell Pathology (Amsterdam): 4598454. Assay: Formaldehyde in monkey CSF.

Yang, M et al (2014). Alzheimer's disease and methanol toxicity (part 2): lessons from four rhesus macaques (Macaca mulatta) chronically fed methanol. J Alzheimers Dis. 41(4): 1131-1147. Assay: Formaldehyde in monkey whole blood.

To find more recent publications, please click here.
If you or your labs do not have the equipment or scientists necessary to run this assay, BioAssay Systems can perform the service for you.
– Fast turnaround
– Quality data
– Low cost
Please email or call 1-510-782-9988 x 2 to discuss your projects.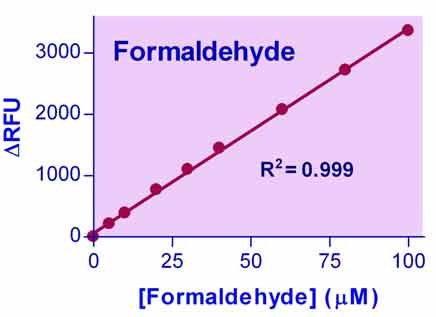 For bulk quote or custom reagents, please email or call 1-510-782-9988 x 1.

Orders are shipped the same day if placed by 2pm PST
Shipping: RT
Carrier: Fedex
Delivery: 1-2 days (US), 3-6 days (Intl)
Storage: 4&degC upon receipt
Quality and User-friendly • Expert Technical Support • Competitive Prices • Expansive Catalogue • Trusted Globally