QuantiFluo™ Diamine Oxidase Assay Kit
Application
For quantitative determination of diamine oxidase and evaluation of drug modulators.
Key Features
Fast and sensitive. Use of 10 µL sample. Linear detection range 0.5 to 6 U/L for 30 min reaction at 25°C.
Convenient. The procedure involves adding a single working reagent, and reading the fluorescence at 0 and 30 minutes. Room temperature assay. No 37°C heater is needed.
High-throughput. "Add-mix-read" type assay. Can be readily automated as a high-throughput 96-well plate assay for thousands of samples per day.
Method
Samples
Species
Procedure
Size
Detection Limit
Shelf Life
More Details
DIAMINE OXIDASE (DAO) also known as histaminase or amine oxidase (copper containing), is an enzyme involved in the metabolism, oxidation, and inactivation of histamine in animals. Highest content is observed in the digestive tract and placenta. An imbalance between histamine intake and the capacity for histamine degradation can lead to histamine intolerance (HIT). Measuring DAO activity in serum can be useful in diagnosing HIT.

BioAssay Systems non-radioactive, fluorimetric DAO assay is based on the oxidation of putrescine to pyrroline plus NH3 and H2O2. The generated H2O2 is then used by HRP to oxidize a dye making it fluorescent. The increase in fluorescence at λex/em = 530/585 nm is directly proportional to the enzyme activity.


•

Enzyme-Activity-Assays.htm" target="_blank">Other Enzyme Activity Assay Kits


•

Metabolism.htm" target="_blank">Other Metabolism Assay Kits
How do I store the kit?
This kit is shipped at room temperature. Upon receiving, please keep the kit in the freezer (-20 to -10°C) for long term stability.


What samples have you tested?
Serum samples were tested. Since DAO is copper dependent, EDTA should be avoided in sample preparation.


What is the benefit of using an internal standard?
Serum and plasma samples greatly influence the HRP reaction. In order to measure an appropriate RFU for H2O2 in a serum or plasma matrix, an internal standard is required.


Will the assay kit work in a 384 well plate, cuvette, etc?
Yes, the assay can be used in any standard black plate or cuvette. Simply adjust the total reaction volume to your container. For 384 well use 20-90 μL, for a cuvette use 1 mL (some narrow cuvettes can hold 200-500 μL).


Can I store unused reagents for future use?
Yes, unused reagents can be stored according to the assay protocol. Repeated freeze/thaw cycles of reagents should be avoided. Working Reagents should be made fresh for each assay and used within 1 hour.


I don't have the correct wavelength filter, will the assay still work?
Typically if you are within ± 20 nanometers the assay will still work, but have slightly reduced sensitivity. Some assays have a narrower peak than others, call our tech support for a spectrum to verify.
No citations for this new product. Please check back later. You may click here to check if citations are available, but are not listed here yet.
If you or your labs do not have the equipment or scientists necessary to run this assay, BioAssay Systems can perform the service for you.
– Fast turnaround
– Quality data
– Low cost
Please email or call 1-510-782-9988 x 2 to request assay service.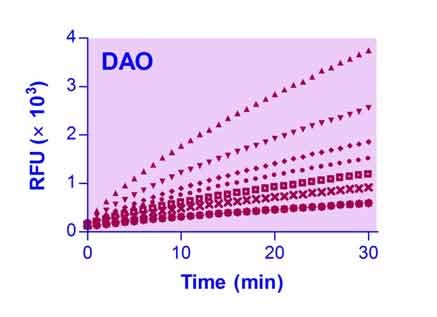 For orders of 10 or more kits, please call +1-510-782-9988×1 or email us for best pricing and/or bulk order.

Orders are shipped the same day if placed by 2pm PST
Shipping: RT
Carrier: Fedex
Delivery: 1-2 days (US), 3-6 days (Intl)
Storage: -20°C upon receipt