QuantiChrom™ Bilirubin Assay Kit
Application
For quantitative determination of bilirubin and evaluation of drug effects on bilirubin metabolism.
Key Features
Sensitive and accurate. Detection limit 0.16 mg/dL bilirubin in 96-well plate assay.
Simple and high-throughput. The procedure involves addition of a single working reagent and incubation for 10 min. Can be readily automated as a high-throughput assay in 96-well plates for thousands of samples per day.
Method
Samples
Species
Procedure
Size
Detection Limit
Shelf Life
More Details
BILIRUBIN is one of the degradation products of hemoglobin formed when red blood cells die. Bilirubin exists in the insoluble unconjugated form (also indirect bilirubin), or soluble glucuronide conjugated form bilirubin (also direct bilirubin). Conjugated bilirubin moves into the bile canaliculi of the liver and then to the gall bladder. When stimulated by eating, bile (including the conjugated bilirubin) is excreted into the small intestine, where bilirubin is converted into urobilinogen. Bilirubin is a key diagnostic indicator. High levels of bilirubin result when too much hemoglobin is broken down or the removal of bilirubin does not function properly. The accumulation of bilirubin in the body causes jaundice. Simple and automation-ready procedures for quantitative determination of bilirubin find wide applications in research and drug discovery. BioAssay Systems bilirubin assay kit is designed to measure bilirubin in blood specimen in 96-well or cuvette formats. The improved Jendrassik-Grof method utilizes the reaction of bilirubin with diazotized sulfanilic acid, in which a red colored product is formed. The intensity of the color, measured at 510-550nm, is an accurate measure of the bilirubin level in the sample. Total bilirubin is assessed using caffeine benzoate to split bilirubin from the unconjugated bilirubin protein complex.
I would like to know whether your calibrator is bilirubin conjugate or unconjugated bilirubin or a combination of the two. If it is a combination of the two what is the proportion?
Bilirubin is not stable which is why we do not provide bilirubin as calibrator or standard. The calibrator is a dye that is stable and absorbs at the same wavelength as the product in the bilirubin color reaction. The absorbance (OD) is used to calculate the bilirubin concentration in the sample.


How does this measure conjugated bilirubin in comparison to bilirubin?
The conjugated bilirubin (also called direct bilirubin) is measured directly in the reaction with the diazotized sulfanilic acid, whereas the total bilirubin (conjugated + unconjugated) is measured in the presence of caffeine benzoate, which splits bilirubin from the unconjugated bilirubin protein complex.
Yuniartha, R., et al (2021). Cholangiogenic potential of human deciduous pulp stem cell-converted hepatocyte-like cells. Stem Cell Research & Therapy, 12(1), 57. Assay: Bilirubin in Mouse Serum.

Miura, S., & Suzuki, A. (2020). Induction of steatohepatitis and liver tumorigenesis by enforced snail expression in hepatocytes. The American Journal of Pathology, 190(6), 1271-1283. Assay: Bilirubin in Mouse serum.

Lin-Lin, M., et al (2019). Heme oxygenase-1 agonist copp suppresses influenza virus replication through irf3-mediated generation of ifn-α/β. Virology, 528, 80-88. Assay: Bilirubin in Mouse macrophage RAW264.7 cells.

Nguyen, N. H., Le, T. V., Do, H. Q., Dang, T. M., Nguyen, Y. K., Vo, N. H., & Truong, N. H. (2018). human adipose-derived stem cells pre-treated with platelet-rich plasma and hepatocyte growth factor alleviate liver fibrosis in mice. Biomedical Research and Therapy, 5(5), 2332-2348. Assay: Bilirubin in mice serum.

Matsushima, A., Oda, K., Mori, N., & Murakami, T. (2017). Modulation of multidrug resistance-associated proteins function in erythrocytes in glycerol-induced acute renal failure rats. Journal of Pharmacy and Pharmacology, 69(2), 172-181. Assay: Bilirubin in ureamic plasma.

Sharabi, K., Lin, H., Tavares, C. D., Dominy, J. E., Camporez, J. P., Perry, R. J. & Bennion, M. (2017). Selective chemical inhibition of PGC-1alpha gluconeogenic activity ameliorates type 2 diabetes. Cell, 169(1), 148-160. Assay: Bilirubin in rabbits serum.

Thongdee, P., & Na-Bangchang, K. (2017). The role of heme-oxygenase-1 in pathogenesis of cerebral malaria in the co-culture model of human brain microvascular endothelial cell and ITG Plasmodium falciparum-infected red blood cells. Asian Pacific journal of tropical medicine, 10(1), 20-24. Assay: Bilirubin in human brain cells.

Van Le, T., Nguyen, N. H., Do, H. Q., Le, H. M., & Truong, N. H. (2017). Transplantation of umbilical cord blood-derived mesenchymal stem cells to treat liver cirrhosis in mice: a comparison of tail and portal vein injection. Progress in Stem Cell, 4(2), 201-216. Assay: Bilirubin in enterococcus faecalis liver cells.

DIBR-180 Kita, S., & Textversion, E. T. D. (2016). The protective effect of transplanted liver cells into the mesentery on the rescue of acute liver failure after massive hepatectomy (Dissertation). Cell transplantation 25.8 (2016): 1547-1559. Assay: Bilirubin in rats serum.

Li, Z., et al. (2016). Liver serine palmitoyltransferase activity deficiency in early life impairs adherens junctions and promotes tumorigenesis. Hepatology, 64(6), 2089-2102. Assay: Bilirubin in mice bile acid.

Masuzaki, R., Zhao, S., Valerius, M. T., Tsugawa, D., Oya, Y., Ray, K. C., & Karp, S. J. (2016). SOCS2 balances metabolic and restorative requirements during liver regeneration. Journal of Biological Chemistry, 291(7), 3346-3358. Assay: Bilirubin in mice serum.

Truong, N. H., Nguyen, N. H., Le, T. V., Vu, N. B., Huynh, N., Nguyen, T. V. & Pham, P. V. (2016). Comparison of the treatment efficiency of bone marrow-derived mesenchymal stem cell transplantation via tail and portal veins in CCl4-induced mouse liver fibrosis. Stem Cells International, 2016. Assay: Bilirubin in mice venous blood.

Park SW, et al (2011). Cytokines induce small intestine and liver injury after renal ischemia or nephrectomy. Lab Invest. 91(1):63-84. Assay: Bilirubin in mouse plasma.

Sekiya, S, Suzuki, A (2011). Direct conversion of mouse fibroblasts to hepatocyte-like cells by defined factors. Nature 475(7356):390-3. Assay: Bilirubin in mouse plasma.

Siciliano A, et al (2011). Abnormal modulation of cell protective systems in response to ischemic/reperfusion injury is important in the development of mouse sickle cell hepatopathy. Haematologica. 96(1):24-32. Assay: Bilirubin in mouse blood.

Akachi T, et al (2010). 1-methylmalate from camu-camu (Myrciaria dubia) suppressed D-galactosamine-induced liver injury in rats. Biosci Biotechnol Biochem.74(3):573-8. Assay: Bilirubin in rat plasma.

Fu YY, et al (2010). Hyperbilirubinemia reduces the streptozotocin-induced pancreatic damage through attenuating the oxidative stress in the Gunn rat. Tohoku J Exp Med. 222(4):265-73. Assay: Bilirubin in rat plasma.

Holt MP, et al (2010). Exacerbation of acetaminophen-induced disturbances of liver sinusoidal endothelial cells in the absence of Kupffer cells in mice. Toxicol Lett. 194(1-2):34-41. Assay: Bilirubin in mouse blood.

Hyvelin JM, et al (2010). Hemin prevents in-stent stenosis in rat and rabbit models by inducing heme-oxygenase-1. J Vasc Surg. 51(2):417-28. Assay: Bilirubin in rat blood.

Okura H,et al (2010). Properties of hepatocyte-like cell clusters from human adipose tissue-derived mesenchymal stem cells. Tissue Eng Part C Methods. 16(4):761-70. Assay: Bilirubin in human, mouse serum, tissue.

Vera T, Stec DE (2010). Moderate hyperbilirubinemia improves renal hemodynamics in ANG II-dependent hypertension. Am J Physiol Regul Integr Comp Physiol. 299(4):R1044-9. Assay: Bilirubin in mouse blood.

Zhang, Z et al (2010). Preclinical assessment of simultaneous targeting of epidermal growth factor receptor (ErbB1) and ErbB2 as a strategy for cholangiocarcinoma therapy. Hepatology 52(3):975-86. Assay: Bilirubin in rat blood.

Beppu F. et al (2009) Single and repeated oral dose toxicity study of fucoxanthin (FX), a marine carotenoid, in mice. J. Toxicol. Sci. 34(5): 501-510. Assay: Bilirubin in mouse plasma.

Nedredal GI, et al (2009) Optimization of mass transfer for toxin removal and immunoprotection of hepatocytes in a bioartificial liver. Biotechnol Bioeng.104(5): 995-1003. Assay: Bilirubin in human tissue.

Sirica AE,et al (2008). A novel "patient-like" model of cholangiocarcinoma progression based on bile duct inoculation of tumorigenic rat cholangiocyte cell lines. Hepatology 47(4):1178-90. Assay: Bilirubin in rat serum.

Vinchi F. et al (2008) Hemopexin Prevents Endothelial Damage and Liver Congestion in a mouse Model of Heme Overload. Am J Pathol. 2008 July; 173(1): 289-299. Assay: Bilirubin in mouse serum.

To find more recent publications, please click here.
If you or your labs do not have the equipment or scientists necessary to run this assay, BioAssay Systems can perform the service for you.
– Fast turnaround
– Quality data
– Low cost
Please email or call 1-510-782-9988 x 2 to request assay service.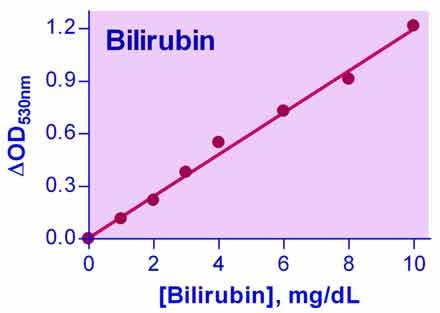 For orders of 10 or more kits, please call +1-510-782-9988×1 or email us for best pricing and/or bulk order.

Orders are shipped the same day if placed by 2pm PST
Shipping: RT
Carrier: Fedex
Delivery: 1-2 days (US), 3-6 days (Intl)
Storage: 4°C upon receipt