EnzyChrom™ Aspartate Transaminase Assay Kit
Application
For quantitative determination of aspartate transaminase (AST) activity and evaluation of drug effects on AST activity.
Key Features
Sensitive. Linear detection range: 2-100 U/L.
Simple and convenient. This simple, convenient assay can be carried out in a microplate or a cuvette and takes only 10 min.
Method
Samples
Species
Procedure
Size
Detection Limit
Shelf Life
More Details
Aspartate Transaminase (AST), also known as serum glutamic oxaloacetic transaminase (GOT) or aspartate aminotransferase (ASAT/AAT), facilitates the conversion of aspartate and a-ketoglutarate to oxaloacetate and glutamate. There are two isoenzymes in humans: GOT1 is a cytosolic isoenzyme derived from red blood cells and heart; GOT2 is the mitochondrial isoenzyme found mainly in the liver. AST is elevated in liver and muscle diseases. It is part of diagnostic tests for liver function, myocardial infarction, acute pancreatitis, acute hemolytic anemia, severe burns, acute renal disease and trauma. Simple, direct and automation-ready procedures for measuring AST activity find wide applications in research and drug discovery. BioAssay Systems AST activity assay is based on the quantification of oxaloacetate produced by AST. In this assay, oxaloacetate and NADH are converted to malate and NAD by the enzyme malate dehydrogenase. The decrease in NADH absorbance at 340 nm is proportionate to AST activity.
I am not quite clear about the factor 388 used in the calculation. How is path length correction for 220 µl of sample volume in the 96 well done? Is the concentration of the NADH used 10 mM?
The concentration of the NADH solution is 10 mM. The concentration of NADH in the final reaction volume (V = 220 μL) is calculated by accounting for the dilution steps when preparing the working reagent, i.e. 4 μL/206μL in the first step and 200 mL/220 mL in the second step. This is the final initial concentration of NADH in the reaction.
To calculate the activity of the sample, i.e. µmoles NADH consumed / (L x min), one has to divide by 5 min incubation time and multiply by the dilution factor of the sample which is 11.
Multiplying all these constant values together equals 388.
There is no need for a path length correction, because the sample and the standard wells contain the same volume.


Andres-Hernando, A., et al (2020). Deletion of fructokinase in the liver or in the intestine reveals differential effects on sugar-induced metabolic dysfunction. Cell Metabolism, 32(1), 117-127.e3 Assay: ASP in mouse serum.

Fang, W., et al (2020). Cathepsin B deficiency ameliorates liver lipid deposition, inflammatory cell infiltration, and fibrosis after diet-induced nonalcoholic steatohepatitis. Translational Research: The Journal of Laboratory and Clinical Medicine, 222, 28-40. Assay: ASP in mouse plasma.

Andres-Hernando, A., et al (2021). Vasopressin mediates fructose-induced metabolic syndrome by activating the V1b receptor. JCI Insight, 6(1). Assay: ASP in mouse plasma.

Seo, B., et al (2020). Roseburia spp. Abundance associates with alcohol consumption in humans and its administration ameliorates alcoholic fatty liver in mice. Cell Host & Microbe, 27(1), 25-40.e6. Assay: ASP in mouse serum.

Ishak Gabra, M. B., et al (2020). Dietary glutamine supplementation suppresses epigenetically-activated oncogenic pathways to inhibit melanoma tumour growth. Nature Communications, 11(1), 3326. Assay: ASP in mouse serum.

Xu, W., et al (2020). Lyp-1-modified oncolytic adenoviruses targeting transforming growth factor beta inhibit tumor growth and metastases and augment immune checkpoint inhibitor therapy in breast cancer mouse models. Human Gene Therapy, 31(15-16), 863-880. Assay: ASP in mouse serum.

Shin, M. K., Yang, S.-M., & Han, I.-S. (2020). Capsaicin suppresses liver fat accumulation in high-fat diet-induced NAFLD mice. Animal Cells and Systems, 24(4), 214-219. Assay: ASP in mouse plasma.

Andres-Hernando, A., et al (2020). Sugar causes obesity and metabolic syndrome in mice independently of sweet taste. American Journal of Physiology. Endocrinology and Metabolism, 319(2), E276-E290. Assay: ASP in mouse serum.

Sae-Khow, K., et al (2020). Pathogen-associated molecules from gut translocation enhance severity of cecal ligation and puncture sepsis in iron-overload beta-thalassemia mice. Journal of Inflammation Research, 13, 719-735. Assay: ASP in mouse serum.

Amor, C.,et al (2020). Senolytic CAR T cells reverse senescence-associated pathologies. Nature, 583(7814), 127-132. Assay: ASP in mouse serum.

Choi, E.-Y., et al (2020). Water extract of artemisia annua l. Exhibits hepatoprotective effects through improvement of lipid accumulation and oxidative stress-induced cytotoxicity. Journal of Medicinal Food, 23(12), 1312-1322 Assay: ASP in human hepatocarcinoma cells.

Simion, V., et al (2020). A macrophage-specific lncRNA regulates apoptosis and atherosclerosis by tethering HuR in the nucleus. Nature Communications, 11(1), 6135. Assay: ASP in mouse serum.

Andreata, F., et al (2020). Co-administration of H-ferritin-doxorubicin and Trastuzumab in neoadjuvant setting improves efficacy and prevents cardiotoxicity in HER2 + murine breast cancer model. Scientific Reports, 10(1), 11425. Assay: ASP in mouse tissue.

Li, Yajuan, et al (2019). PTEN-induced partial epithelial-mesenchymal transition drives diabetic kidney disease. The Journal of clinical investigation 129.3. Assay: Aspartate transaminase in mice serum.

Hay, Charles E., et al (2018). Development and testing of AAV-delivered single-chain variable fragments for the treatment of methamphetamine abuse. PloS one 13.6: e0200060. Assay: Aspartate transaminase in mice serum.

Kamerkar, Sushrut, et al (2017). Exosomes facilitate therapeutic targeting of oncogenic KRAS in pancreatic cancer. Nature 546.7659: 498. Assay: Aspartate transaminase in mice plasma.

Kim, Soo Hyun, et al (2017). Ezetimibe ameliorates steatohepatitis via AMP activated protein kinase-TFEB-mediated activation of autophagy and NLRP3 inflammasome inhibition. Autophagy 13.10: 1767-1781. Assay: Aspartate transaminase in mice serum.

Sharabi, K et al (2017). Selective chemical inhibition of PGC-1alpha gluconeogenic activity ameliorates type 2 diabetes. Cell 169.1: 148-160. Assay: Aspartate transaminase in mice serum.

Wardah, J. Rahmahani, and T. Sopandi (2017). Effect of Phyllanthus buxifolius Leaf as a Feed Supplement on Liver Function and Haematological Response of Quail (Coturnix coturnix japonica) Challenged with Infectious Newcastle Disease Virus. International Journal of Poultry Science 16: 354-363. Assay: Aspartate transaminase in quail serum.

Weis, Sebastian, et al (2017). Metabolic adaptation establishes disease tolerance to sepsis. Cell 169.7: 1263-1275. Assay: Aspartate transaminase in mice plasma.

Seemann, Semjon, and Amelie Lupp (2016). Administration of AMD3100 in endotoxemia is associated with pro-inflammatory, pro-oxidative, and pro-apoptotic effects in vivo. Journal of biomedical science 23.1: 68. Assay: Aspartate transaminase in mouse serum.

Ballester-Lozano GF et al. (2015). Comprehensive biometric, biochemical and histopathological assessment of nutrient deficiencies in gilthead sea bream fed semi-purified diets. Br J Nutr. 114(5):713-26. Assay: aspartate aminotransferase enzyme activity in fish.

Laura, BP et al. (2015). Lasting effects of butyrate and low FM/FO diets on growth performance, blood haematology/biochemistry and molecular growth-related markers in gilthead sea bream (Sparus aurata). Aquaculture 454: 8-18. Assay: Aspartate transaminase in fish plasma.

Seemann, S and A Lupp (2015). Administration of a CXCL12 Analog in Endotoxemia Is Associated with Anti-Inflammatory, Anti-Oxidative and Cytoprotective Effects In Vivo. PLoS One 10(9): e0138389. Assay: Aspartate transaminase in mouse serum.

Jiang, S., et al (2014). Effect of perches on liver health of hens. Poultry science, 93(7), 1618-1622. Assay: Aspartate transaminase in hen serum.

Vives, V et al (2014). Pharmacological inhibition of Dock5 prevents osteolysis by affecting osteoclast podosome organization while preserving bone formation. Nature Communications 6: 6128. Assay: Aspartate transaminase in mouse serum.

To find more recent publications, please click here.
If you or your labs do not have the equipment or scientists necessary to run this assay, BioAssay Systems can perform the service for you.
– Fast turnaround
– Quality data
– Low cost
Please email or call 1-510-782-9988 x 2 to request assay service.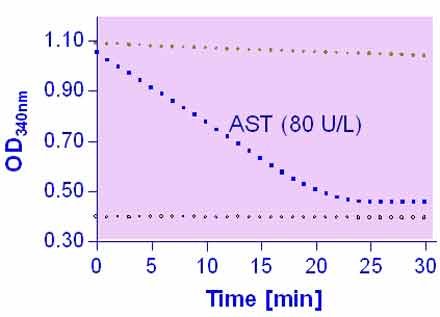 For orders of 10 or more kits, please call +1-510-782-9988×1 or email us for best pricing and/or bulk order.

Orders are shipped the same day if placed by 2pm PST
Shipping: On Ice
Carrier: Fedex
Delivery: 1-2 days (US), 3-6 days (Intl)
Storage: -20°C upon receipt