QuantiChrom™ Acetylcholinesterase Inhibitor Screening Kit
Application
For evaluation and high-throughput screen (HTS) of acetylcholinesterase modulators.
Key Features
Fast and sensitive. Linear detection range from 10 to 600 U/L for a 10-minute reaction at room temperature.
High-throughput. Homogeneous "mix-incubate-measure" type assay. Can be readily automated on HTS liquid handling systems for processing thousands of samples per day.
Method
Samples
Compounds that affect acetylcholinesterase activity
Species
Procedure
Size
Shelf Life
More Details
ACETYLCHOLINESTERASE
(EC 3.1.1.7, AChE), also known as RBC cholinesterase, is found primarily in the blood and neural synapses. AChE catalyzes the hydrolysis of the neurotransmitter acetylcholine into choline and acetic acid, a reaction necessary to allow a cholinergic neuron to return to its resting state after activation. Inhibition of the enzyme leads to acetylcholine accumulation, hyperstimulation of nicotinic and muscarinic receptors, and disrupted neurotransmission. AChE inhibition is an important target for the management of Alzheimer's disease. In addition to Alzheimer's disease, AChE inhibitors have been useful in the diagnosis or treatment of diseases such as glaucoma, myasthenia gravis, bladder distention, and more. BioAssay Systems QuantiChrom™ Acetylcholinesterase Inhibitor Assay is based on an improved Ellman method, in which thiocholine produced by the action of acetylcholinesterase forms a yellow color with 5,5′-dithiobis(2-nitrobenzoic acid). The intensity of the product color, measured at 412nm, is proportionate to the enzyme activity in the sample.
Does the kit come with AChE or a control AChE inhibitor?
No, these are not included.


How do I store the kit?
This kit is shipped at room temperature. Upon receiving, please the kit at -20°C. The assay buffer can be stored at room temperature if desired.


What species of Acetylcholinesterase was the kit optimized for?
The kit was optimized for AChE for E. electricus (electric eel).


What if I am interested in testing inhibition of a species that is not electric eel?
We recommend that you experimentally determine the Km and then adjust the volume of substrate in the Working Reagent so that the final concentration of the substrate in the 200µL Reaction Volume is near the Km.


What Acetylcholinesterase inhibitors were tested using this kit?
Physostigmine (CAS Number 57-47-6) and Donepezil (CAS Number 120014-06-4).
El-Malah, A., Abouelatta, A. I., Mahmoud, Z., & Salem, H. H. (2019). New cyclooctathienopyridine derivatives in the aim of discovering better Anti-Alzheimer's agents. Journal of Molecular Structure. Assay: Acetylcholinesterase inhibitor in brain cholinesterase.

Ji, J et al. (2020). A polyphenol rich sugarcane extract as a modulator for inflammation and neurological disorders. PharmaNutrition, 100187. Assay: Acetylcholinesterase Inhibitor in acetylcholinesterase.

Bae, HJ et al. (2020). Green tea extract containing enhanced levels of epimerized catechins attenuates scopolamine-induced memory impairment in mice. Journal of Ethnopharmacology, 258, 112923. Assay: Acetylcholinesterase Inhibitor in mouse acetylcholinesterase.

Bakr, RO et al. (2021). New adenosine derivatives from aizoon canariense l.: In vitro anticholinesterase, antimicrobial, and cytotoxic evaluation of its extracts. Molecules, 26(5). Assay: Acetylcholinesterase Inhibitor in E. electricus acetylcholinesterase.

To find more recent publications, please click here.
If you or your labs do not have the equipment or scientists necessary to run this assay, BioAssay Systems can perform the service for you.
– Fast turnaround
– Quality data
– Low cost
Please email or call 1-510-782-9988 x 2 to discuss your projects.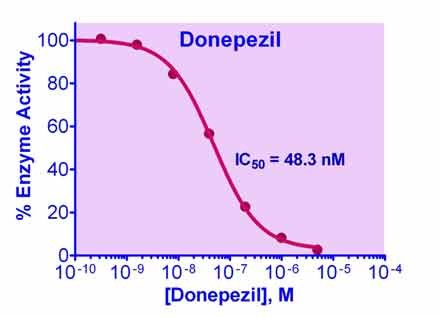 For bulk quote or custom reagents, please email or call 1-510-782-9988 x 1.

Orders are shipped the same day if placed by 2pm PST
Shipping: RT
Carrier: Fedex
Delivery: 1-2 days (US), 3-6 days (Intl)
Storage: -20°C upon receipt
Quality and User-friendly • Expert Technical Support • Competitive Prices • Expansive Catalogue • Trusted Globally