Parallel Artificial Membrane Permeability Assay-Skin Kit
Application
For quantitative determination of skin membrane permeability of test compounds.
Key Features
Convenient. Includes all necessary equipment to run a PAMPA plate.
Simple and low-cost. Procedure is easy to follow and more affordable than cell-based permeability assays.
High-throughput. Can be readily automated as a high-throughput 96-well plate assay for thousands of samples per day.
Method
Samples
Procedure
Assay takes 20 hrs, hands-on time 1 hr
Size
Shelf Life
More Details
MEMBRANE PERMEABILITY
is an important characteristic to determine for evaluating compounds as potential drug candidates. Drugs often need to cross cell membranes in order to reach their target of action and this makes a compound's ability to passively cross these membranes an important characteristic to evaluate. The skin, and in particular, the stratum corneum is a complex barrier, which can be mimicked. Rapid and early screening of compounds for skin penetration is highly desirable for drug discovery. Permeability can be evaluated by cell-based methods; however, these methods are often expensive and time-consuming. Parallel Artificial Permeability Assays (PAMPA) offer researchers a quick, inexpensive method of evaluating the permeability of test compounds. Our PMSKN-096 kit is designed to aid in evaluating skin permeability. BioAssay Systems' PMSKN Kit provides all the necessary components to run a Parallel Artificial Permeability Assay for skin permeability studies.
What are the Permeability Controls?
The High, Medium, and Low Controls are 10 mM stock solutions of Methyl Paraben, and Propyl Paraben, and Theophylline, respectively, in DMSO.


What other materials are required to run the assay?
Pipetting devices, DMSO, PBS, UV Plates (Cat # P96UV), and an absorbance plate reader capable of absorbance spectra.


What is the membrane of the donor plate?
The donor plate membrane is a Hydrophobic PVDF membrane with a pore size of 0.45 µm.


My test compounds aren?t soluble at 500 µM in PBS. Can I use higher concentrations of DMSO in the PAMPA assay?
We recommend against using higher concentrations of DMSO in the PAMPA assay. The spectrophotometric background in the Acceptor solution will increase with higher DMSO concentrations, and the higher concentration of DMSO may alter the membrane and affect the result.
If your compound(s) is/are insoluble in PBS with 5% DMSO, clarify the solution by centrifugation at 13,000xg for 10 minutes then use the supernatant for the Donor solution. For the Equilibrium Standard, mix 80 µL of the new Donor Solution with 120 µL of PBS.
No citations for this new product. Please check back later. You may click here to check if citations are available, but are not listed here yet.
If you or your labs do not have the equipment or scientists necessary to run this assay, BioAssay Systems can perform the service for you.
– Fast turnaround
– Quality data
– Low cost
Please email or call 1-510-782-9988 x 2 to discuss your projects.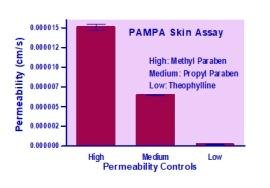 For bulk quote or custom reagents, please email or call 1-510-782-9988 x 1.

Orders are shipped the same day if placed by 2pm PST
Shipping: RT
Carrier: Fedex
Delivery: 1-2 days (US), 3-6 days (Intl)
Storage: -20°C upon receipt
Quality and User-friendly • Expert Technical Support • Competitive Prices • Expansive Catalogue • Trusted Globally