QuantiChrom™ Indole Assay Kit
Application
For quantitative determination of indole and evaluation of drug effects on its metabolism.
Key Features
Fast and sensitive. Use of 100µL sample. Linear detection range from 3 to 100 µM indole in 96-well plate assay.
Convenient. The procedure involves adding a single working reagent, and reading the absorbance immediately.
Method
Samples
Bacterial growth media and other biological samples
Species
Procedure
Size
Detection Limit
Shelf Life
More Details
INDOLE is the primary product of tryptophan breakdown by tryptophanase. The indole test is commonly performed on bacteria to classify them on their ability to break down tryptophan to indole. BioAssay Systems indole assay kit is based on a modified version of Ehlrich's and Kovac's reagents, which reacts with indole to produce a colored compound at 565 nm. The intensity of this colored compound is directly proportional to the indole in the sample.
Does the assay work with urine samples
The Assay will detect indole in urine samples; however, the reagent also reacts with urobilinogen in the urine. It does not distinguish between the two.


Does the assay work with serum samples?
The acidity of the reagent often causes serum samples to precipitate which greatly interferes with the assay.


Do I need to read the OD immediately after adding the reagent?
Yes, we recommend you read the OD shortly after adding the reagent to the samples. The OD of the reaction mixture slowly decreases over time. We would recommend reading the OD within 10 minutes of adding the reagent.
No citations for this new product. Please check back later. You may click here to check if citations are available, but are not listed here yet.
If you or your labs do not have the equipment or scientists necessary to run this assay, BioAssay Systems can perform the service for you.
– Fast turnaround
– Quality data
– Low cost
Please email or call 1-510-782-9988 x 2 to request assay service.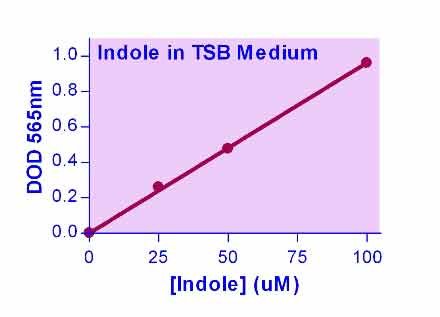 For orders of 10 or more kits, please call +1-510-782-9988×1 or email us for best pricing and/or bulk order.

Orders are shipped the same day if placed by 2pm PST
Shipping: RT
Carrier: Fedex
Delivery: 1-2 days (US), 3-6 days (Intl)
Storage: 4°C upon receipt