QuantiChrom™ FRAP Assay Kit
Application
For quantitative determination of ferric reduction antioxidant potential (FRAP).
Key Features
Sensitive and accurate. Linear detection range: 0.5 to 180 µM Fe3+ reduction potential in 96-well plate assay.
Simple and high-throughput. The procedure involves addition of a single working reagent and incubation for 40 min. Can be readily automated as a high-throughput assay for thousands of samples per day.
Improved reagent stability and versatility. The optimized formulation has greatly enhanced reagent and signal stability.
Method
Samples
Plant extracts, foods, vitamins, supplements, and biological samples such as serum, plasma, and urine
Species
Procedure
Size
Detection Limit
Shelf Life
More Details
FERRIC REDUCTION ANTIOXIDANT POTENTIAL (FRAP) is a measure of antioxidant capacity quantified by the antioxidant potential to reduce ferric iron (III) to ferrous iron (II). Antioxidants protect cells from damage by reactive oxygen species that are produced by oxidation reactions. As oxidative stress contributes to the development of many diseases including Alzheimer's disease, Parkinson's disease, diabetes, rheumatoid arthritis and neurodegeneration, the use of antioxidants in pharmacology is intensively studied. Antioxidants are also widely used as dietary supplements and as preservatives in a wide range of products such as food, cosmetics, rubber and gasoline.

Simple, direct and high-throughput assays for antioxidant capacity find wide applications in research, food industry and drug discovery. BioAssay Systems' improved assay measures antioxidant potential in which Fe3+ is reduced by antioxidant to Fe2+. The resulting Fe2+ specifically forms a colored complex with a chromogen. The color intensity at 590 nm is proportional to FRAP in the sample.
Can you use this assay with serum or plasma samples?
Yes, serum and plasma samples should be diluted 10-fold in dH2O prior assay. Correct for dilution factor (n = 10) in the calculation.


Can you use this assay with urine samples?
Yes, urine samples should be diluted 20-fold in dH2O prior assay. Correct for dilution factor (n = 20) in the calculation.


What happens if my sample has oxidants or reactive oxygen species (ROS) in it?
Samples with oxidants or ROS will yield lower measurements of antioxidant potential because antioxidants in the sample will reduce the oxidants and ROS rather than the Fe3+, this results in lower levels of Fe2+,which is what the assay measures to determine FRAP.


What happens if my sample has iron in it?
This assay measures antioxidant potential to reduce Fe3+ to Fe2+. If the sample has intrinsic Fe2+, this will yield a false positive for antioxidant potential.
No citations for this new product. Please check back later. You may click here to check if citations are available, but are not listed here yet.
If you or your labs do not have the equipment or scientists necessary to run this assay, BioAssay Systems can perform the service for you.
– Fast turnaround
– Quality data
– Low cost
Please email or call 1-510-782-9988 x 2 to request assay service.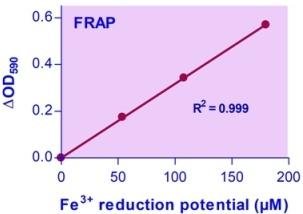 For orders of 10 or more kits, please call +1-510-782-9988×1 or email us for best pricing and/or bulk order.

Orders are shipped the same day if placed by 2pm PST
Shipping: RT
Carrier: Fedex
Delivery: 1-2 days (US), 3-6 days (Intl)
Storage: 4°C upon receipt