Polylactate Assay Service
BioAssay Systems has developed a kinetic fluorometric assay to quantify D-lactate containing polymers, such as PLA and PLGA in tissue samples. The assay principle is based on the hydrolysis of D-lactate containing polymers into lactate monomers followed by D-lactate determination using a highly sensitive and specific fluorescence method. Only L-lactate is naturally prevalent in animal tissue (D-lactate is typically present at only nM levels in mammals which is below the detection limit of the current assay); therefore, any D-lactate measured in a sample is solely derived from the polymer present in the sample.
Key Features of the Assay
Useful to assess remaining polymer coatings on implanted medical devices.
Two step process: 1) Hydrolysis of polymer present to monomers and 2) Measurement of D-lactate.
Accuracy and sensitivity of the assay are not affected by polymer MW, which will decrease over time during implantation.
The method uses D-lactate as a biomarker and since D-lactate is not found endogenously above nM concentrations, the assay is highly specific for PLA.
There is no requirement to remove the tissue from sample, the PLA on both the device and in the tissue are measured together.
Depending on the nature of the sample and polymer composition, sensitivities as low as 1 microgram are possible.
Our sensitive polylactate assay can quantitatively determine the content of PLA or PLGA in medical device samples.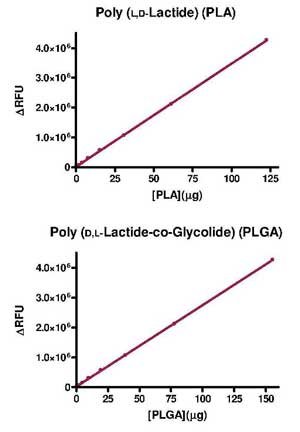 Bioassay Systems has successfully performed this service to measure the degradation of polymer coatings on implanted devices for 3 different medical device companies. Results from these projects were critical for two CE Mark Approvals and the FDA approval of two medical device Investigational Device Exemption (IDE) applications.

This service includes the final preparation of samples for the assay, the hydrolysis of polymer in samples down to monomers and enzymatic measurement of the resultant D-lactate monomers. The polymer weight in the sample is computed from the measured D-lactate concentration in the hydrolysis reaction. The client will be issued a report summarizing the results of the analysis along with an Excel spreadsheet containing all of the collected data, data analysis and results.
Hear What Our Customers Say About Our Services
"The guys at BioAssay Systems know their science! I had to develop a bioassay for our company and Robert was very quick to respond to keep us up to date. They are knowledgeable and very resourceful. They directed us to one of the bulk suppliers that could give us a really good deal on our active ingredient. They keep very detailed records for our research needs. I would recommend working with BioAssay Systems on your assay development projects!"
"It is a pleasure working together with BioAssay Systems. I brought samples to their Hayward location and received the results in less than 24 hr. The discussion with Robert Z was courteous, open, and with a depth of knowledge. Robert has a PhD from Stanford. Also, Frank Huang, the CEO, had sufficient scientific curiosity to try out our cleanser and provide feedback! This is beyond the call of customer relations. BioAssay Systems is a company with a lot of expertise and a friendly, responsive approach to problem solving. I will enthusiastically continue to work with them to carry out our research."
"I would like to show my appreciation to the Bioassay Systems service team. We are developing an assay to measure the change in lactate concentration of single cell samples using fluorescent microscopy. The BioAssay Systems team was quite helpful in assisting us to optimize their fluorescent L-Lactate assay kit for our unique experimental set-up. The BioAssay Systems team is always friendly and knowledgeable. We know that we can rely on them for fast and professional service."
"While developing biodegradable coatings for Drug Eluting Stents I worked with Bob to develop an accurate, precise and sensitive assay for determining the amount of polymer remaining in tissue. It was a pleasure to work with Bob and his team, they are very thorough, they understand the science very well and they always deliver on time and at the right price. I would highly recommend anyone using BioAssay Systems services in the future."