QuantiChrom™ Detergent Assay Kit
Application
For quantitative determination of detergents in e.g. water and soil samples.
Key Features
Sensitive and accurate. Use 20 µL sample. Linear detection range: Tween 80: 0.012 to 4 mM; Tween 20: 0.06 to 5 mM; Triton X-100: 0.23 to 12 mM; Brij L23/35: 0.09 to 5 mM; DTAC: 0.08 to 2 mM; SDS: 10 to 25 mM.
Simple and convenient. The procedure involves addition of two reagents and measuring OD560nm or OD650nm.
Improved reagent stability and versatility. The optimized formulation has greatly enhanced reagent and signal stability. Cuvette or 96-well plate assay.
Method
Samples
Biological and environmental samples
Species
Procedure
Size
Detection Limit
Tween 80: 0.012 to 4 mM; Tween 20: 0.06 to 5 mM; Triton X-100: 0.23 to 12 mM; Brij L23/35: 0.09 to 5 mM; DTAC: 0.08 to 2 mM; SDS: 10 to 25 mM
Shelf Life
More Details
Detergents are surfactants that are amphiphilic, which means that they are partly hydrophobic and partly hydrophilic. Detergents fall into three categories: anionic, cationic, and non-ionic/zwitterionic. They are commonly used in household cleaning products, in gasoline as additives, and in biological reagents. Simple, direct, and automation-ready procedures for measuring detergent concentration in biological samples are very desirable. BioAssay Systems' detergent assay kit is designed to measure detergent directly without any pretreatment. Above the critical micellar concentration, detergent forms micelle in a solution that traps the colorimetric dye. The intensity of the color is directly proportional to the detergent concentration in the sample.
What samples have been tested with this assay?
This kit has been tested with several varieties of handsoap, dish detergent, and powder clothing detergent.


You haven?t tested the detergent I am interested in measuring. Is my detergent compatible with the kit?
Since we haven?t tested every single detergent possible with the kit, there may be some which are not compatible. However, as long as it is not a bile acid it is likely to work. We have found that most lower detection limits tend to be the critical micellar concentration of the detergent (CMC) so if the detergent is compatible, the lower detection limit is probably the CMC. You should construct your own standard curve if you have a purified stock of the detergent, and can determine the concentration using this curve.


Can I use this assay with wastewater?
This assay has not been tested with wastewater. However, Dye B is commonly used to test wastewater for detergents although it requires several purification and extraction steps with a separatory funnel to remove interference. See https://doi.org/10.1002/j.1551-8833.1975.tb02144.x for more information.


Can I use this kit on a sample with multiple detergents in it?
If one detergent is anionic and another is cationic, you may. However, if both detergents are the same charge or are nonionic then they will both be measured by the assay and the true concentration of each cannot be determined. Thus it gives an overall detergent strength.


The OD of my detergent is linear for lower concentrations, then drops, then increases again. Why?
Yes, some detergents behave this way. It is recommended to create a standard curve of detergent that is linear and exclude the higher concentrations that are not linear.


My sample is cloudy. What is causing this interference with this assay?
Sodium deoxycholate and other bile acids precipitate out of solution with this assay and are cloudy, so cannot be used. Additionally, high concentrations of compatible detergents can cause cloudiness, so samples must be diluted to within detection limits.


My sample is colored, will this interfere with the assay?
You can run a background of 20 µL sample + 180 µL DI water to see if there is significant absorbance at OD560 or OD650 nm, and subtract this value from your sample when used with working reagent. You may also have to dilute your sample if detergent concentrations are too high, and this may help with reducing color.
No citations for this new product. Please check back later. You may click here to check if citations are available, but are not listed here yet.
If you or your labs do not have the equipment or scientists necessary to run this assay, BioAssay Systems can perform the service for you.
– Fast turnaround
– Quality data
– Low cost
Please email or call 1-510-782-9988 x 2 to discuss your projects.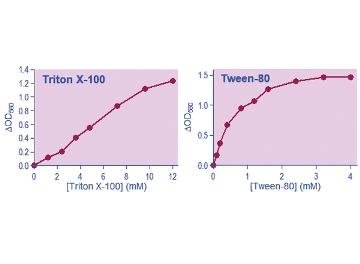 For bulk quote or custom reagents, please email or call 1-510-782-9988 x 1.

Orders are shipped the same day if placed by 2pm PST
Shipping: RT
Carrier: Fedex
Delivery: 1-2 days (US), 3-6 days (Intl)
Storage: 4°C upon receipt
Quality and User-friendly • Expert Technical Support • Competitive Prices • Expansive Catalogue • Trusted Globally